Accommodation & Bali Package Tours

This below list of accomodation is our recommendation.
We have stayed and played in all these beautiful resorts, hotels and Villas
 These prices are exclusive to the Bali Buddy.
Please email if you wish to book or ask any questions on niki.balibuddy@gmail.com
Daily Villa and Hotel Specials released Daily on  The Bali  Buddy Face Book Page .. just like the page and you will receive these Specials .. 
Kuta
Villa Kelapa View No: 2 –  $140 per night – Email

niki.balibuddy@gmail.com
Beautiful 2 bed villa both rooms with ensuites in north Kuta. Has everything you need (maid daily), on site security, WiFi, cable TV, fully air conditioned. 7 minute stroll to the Memorial & Poppies 2.
Kuta
$150 per night for 4 people 
$160 per night for 5 people 
$170 per night for 6 people 
2 bedroom, 2 bathroom bright & modern villa is located in Kuta (Legian end) off JL Mataram in De Jepun Gang, just one street behind Legian Street. Villa Lima is a secure complex of 6 villas which also has a restaurant at the front of the complex. Features: 2 bedrooms each with own private bathroom, one bathroom with separate bath. Separate pool with bar stools & sunken bar & outdoor fridge. Projection over the pool for movie night viewing. Outdoor shower & self contained kitchen (cook top, fridge, microwave, hot & cold water & toaster).  Open plan living with satellite TV/WiFi. TV's in bedrooms & lounge room all with DVD players. Air conditioner in bedrooms & lounge room plus ceiling fans. Security & daily housekeeping.
Legian
Jalan Padma Utara Legian Villa  3 & 4 Price: $200 per Luxury 3 bedroom, 4 bathroom villas with there own swimming pool situated in the heart of Legian. Each bedroom has a king size  bed, cable TV, DVD player, safety deposit box and aircon. Shampoo, conditioner and bath wash is supplied. Open plan living/dining room and a fully functioning kitchen. Other amenities include housekeeping, Wi-Fi, Indovision tv, water, fruit and flowers on arrival. Just 3 minutes to Padma beach and seconds away from bars, restaurants, and shops.
Villas are serviced daily with the exception of ceremonial days including , funerals , weddings – religion is very important to the Balinese  people as this is a part of there custom .
Due to the environment and the government promoting Eco Bali – Towels and Sheets will be changed every three days .. however if you do need a clean towel please don't hesitate to contact Loppy – Housekeeper
Check in is 2 pm and check out  is it 12 Midday unless you book a late check out till 6 pm at half the nightly tariff .. 
Reviews: Thanx for those 3 days in your villa. the attention was amazing and the neighbourhood was pretty nice as well, and the villa talk by itself, beautiful place, spacious rooms and lots of toilets, and the alfresco area was the best, and your location just 5 min.walking to beach was a blast. Other thing, Ketut, your taxi driver was the best too, he was very helpful and kind person. Kind regards. Alejandro Fasce. Perth." "we love everything about your villa, very clean place, quiet and the best of all was your employees, they were very nice and helpful. Thanx." "i think there is nothing to improve to my understanding, it was a beautiful experience and the villa got everything that we looked for. Thanx. Alejandro Fasce."
Legian  
Jalan Padma Ultara Legian – All rooms have been renovated
Sinar Bali Hotel is a resort with  19 standard rooms, 6 standard bungalows and 3 superior bungalows are fully air conditioned and complete with hot & cold running water, telephone, colour television and private balconies or verandah. All rooms are set facing the swimming pool, and have one double or twin beds. Wi Fi in all rooms & includes breakfast.
Standard room – 550.000 rup per night 
Standard Bungalow – 650.000 rup per night 
Superior Bungalow – 800.000 rup per night 
Includes Breakfast and in room WiFi .. All rooms face the pool … 
Sinar Bali  is a quaint 27 room resort in a great position tucked away one street from the beach in Legian.  Great pool and swim up bar, food and drinks are really well priced. The staff are just amazing and you will soon become firm friends. The restaurant serves fantastic food and has the longest menu seen in Bali. Cookie the chef worked on the QE2.
Sinar Bali location, food, staff and atmosphere are truly unique. if you stay at Sinar Bali your Bali holiday will be complete and you will soon become part of Sinar Bali family.
REVIEWS Moper Perth WA We have been staying at this Hotel for many years now and the staff are just like family. There has been a few changes over the years and although the owners are slowly refurbishing the rooms the hotel has managed to retain what guests have come to expect & appreciate. Bali-girl 1963 Perth Love this Hotel. great location, great staff, great price. I visit this hotel 4-6 times a year and usually stay in bungalow 24. A small intimate hotel and as I travel solo, always meet people here. There are regular guests who I have known for years and we catch up their annually. Simone Sydney I just love this place…staff are so friendly, love Joanne, Danny at the pool bar, Wayan the gardener, Froggy and Wayan the room cleaners are so much fun and very friendly. Nyoman security is so nice and we always get along with Made he is so polite and nice. I wouldn't stay anywhere else.
Legian
Jalan Padma Ultara 10 Legian Beach Melati apartments feature twelve luxury apartments comprising of 2 x one bedroom, 8 x two bedroom & 2 x 3 bedroom apartments. 1bd – 1,400,000. Approx  – $140 2bd SMALL – 1,900,000 -approx – $190 2bd – 2,400,000 – approx – $240 3bd 301 – 3,300,000  – approx $330 3bd 302 –  2,700,000 – approx $270 PEAK: 20 December  to 10 January 1bd – 1,700,000 – approx $170 2bd SMALL – 2,200,000 – approx $220 2bd – 2,700,000 – approx $270 3bd 301 – 3,600,000 – approx $360 3bd 302 – 3,000,000 – approx $300 Approx $ aud dollars will fluctuate due to the rup rate at time of arrival .. Prices are based on rup .. I am just  giving you a approx idea .. 
The Beach Melati apartments are situated in Legian. Choose from twelve luxurious  apartments, ranging from one to three bedrooms. Each apartment features ensuite bathrooms, kitchen, entertainment systems, open plan lounge and dining areas to ensure your every need is catered for.
Amenities
Internet

Free WiFi in all apartments
Café that delivers meals to your rooms at a cost to you.
We invite you to experience and enjoy the magic of Bali in your home away from home & the serenity of the place ensures full comfort and privacy, whilst only 3 minutes drive from the tourist centre of Kuta and less than 3 minutes walk to the famous Legian.
The apartments are located behind high walls guaranteeing your security and are strategically positioned for guests to sample the cosmopolitan dining and shopping scene of the area. The apartments are located only 200 meters from the beach and afford the guests all the pleasures they seek for the ultimate Bali experience.
The staff have been here for many years and are happy to help at any time of the day or night.
The apartments are strongly influenced by the use of local materials in the choice of interior decorating ensuring the indelible spirit of Bali is captured in all its grace and beauty.
The one bedroom apartments are the perfect refuge for honeymooners and travelling couples.
The two bedroom apartments are perfect for 2 travelling couples or families who wish to share their experience in a home environment.
The three bedroom apartments have generous living areas, fully appointed kitchens and large sundeck terraces.
The open plan layouts provide generous space for you to relax on your own or entertain guests as you sip long cocktails in the poolside living area.
REVIEWS
If you are looking for a small, stylish and peaceful place to stay and retreat from the hustle Beach Melati Apartments fits the bill. If you want kids club, swim up bar and blaring TV screens this is not the place for you ! We will be back . Review from Debbie R from Forster NSW  Beach Melati Apartents  are the place to stay if you want to be close to everything Legian has to offer. High walls and a side entrance give a feeling of seclusion and a sanctuary away from the hustle and bustle going on just outside the complex. We stayed in a 2 bedroom apartment which offered plenty of space for 2 adults and 2 teenagers. The rooms were very clean and workers and management were very friendly. Review by Goagin from Maitland NSW I travelled with my friend and four 18 yo, two apartments. Great location wonderful helpful staff, nothing any trouble to them. Rooms were clean and well stocked. Always a chair by the pool! Quite place but great will stay again next visit! Review from Mchldry from Melbourne This was my first time in Bali and Beach Melati Apartments made the amazing experience just that much more incredible. Apartment 302 was where we stayed and from top to bottom it was an absolute pleasure. The amount of space in the place was fantastic, felt like we could spread out to no end and relax without ever feeling cramped, hugely spacious. The apartment is decorated with some vibrant art and furniture, a generous amount of utilities, an incredible bathroom with an amazing shower. Water cooler is a great bonus and the beds are huge and very comfortable. Top pick for the place would be the balcony – spacious and wrapping around the side of the apartment it provided an excellent space to relax and unwind with a great view straight into Legian. The apartment complex itself is beautiful. Very relaxing with a large pool in the centre, Jinae and the staff there are incredibly helpful with everything from advice, servicing the apartment, getting around, what to see or even just someone to chat to! Pro: it's super close to the beach which means going and getting a local culinary delight from my favourite vendor, Corn Man as much as humanly possible. What more can I say? You need to check this great space out for yourself when you're in Bali next. Highly recommended. Review from Shajoanne from Newcastle loved the the homely feeling,.. the staff very friendly and helpful.. highly recommended to all who love this… the apartments are close to both shops and beach…the Beach Melati apartments offer a relaxed feel and i will definitely be back.
Legian
Jayakarta 2 x 1 bedroom apartments – sleeps 5 – Email

niki.balibuddy@gmail.com
$80 per night with $5 extra per person
Apartment 6403 (Level 4) & 6500 (Level 5)
•4 star Jayakarta 11 acre resort Legian, Privately owned – renovated apartments, 3 Restaurants/3 pools, Each Apartment sleeps up to 5 plus cot, TV/DVD/CD / Aircon in both lounge and main bedroom, WiFi available in each room at extra cost, Kitchens have all facilities, Close to shopping and beach, Elevator to 4th and 5th floor locations, Kids Club • Gym • Tennis courts,  Playground
The roomy 45 square metre apartments are 6403, located on the fourth floor with views of the mountains and 6500 on the fifth floor with ocean views towards Kuta and both overlook the main street below.
The apartments are considerably larger than the normal hotel rooms. The fourth and fifth floors, 'A' block location are away from the lifts and offer relative quiet from the passing traffic of ground level rooms. From the private balcony the main street views offer an interesting look at life 'bali-style'.
The sleeping facilities offer a king size bed in the main bedroom as well as a fold out double futon with single bunk over in the lounge area. A portable baby cot & pram are also available. Both lounge and bedroom have a separate airconditioner with individual controls. TV/DVD & CD player are featured in each room also.
Kitchen facilities include microwave, electric kettle, fridge, watercooler [ free purified water provided ], toaster etc. Also included are an iron and ironing board and hairdryer. There are many small stores nearby offering daily needs such as bread, milk etc. Sheets, towels and beach towels, toilet rolls & tissues etc are provided and the apartment is serviced daily.
There is a phone in the room for incoming calls – from Australia your friends can call +62 361 751 433, ask for Residence A and then room number.  There are handy features such as: • Safe in each room. • 24 hour security at the main and beach entrances. • WiFi available in room [at extra cost] or Free Internet cafe on grounds. • Use of carpark. • Our Supervisor can be contacted if you have a problem of any kind. Contact details are in the room.
Apartment 6403 – Use of all Hotel Facilities
Apartment 6500 – Use of all Hotel Facilities
Apartment 6410 on the 4th floor –

$65 per double per night or $75 per triple per night
Legian -1 bedroom  Apartment in the Jayakarta Hotel Apartment A complex. Email

niki.balibuddy@gmail.com
4 star Jayakarta Hotel on 11 Acres privately  owned  on the beach front, This apartment sleeps 3 with a double bedroom and sofa bed in the lounge room, TV , DVD, CD, AC, Water filter, Self contained, Elevator to the 5th Floor, Serviced Daily, Complete use of the hotels pools. Kids club, tennis court and gym. Overlooking the Main Street but peaceful and quiet. 24 Hour security & In room safe  For bookings email niki.balibuddy@gmail.com  
Apartment 6547 on the top floor – $90 per double per night & $5 per night per person
Legian – 1 bedroom Apartment (50sqm) in the Jayakarta Hotel Apartment A complex.
Email niki.balibuddy@gmail.com
This 1br serviced apartment  (sleeps up to five (5) adults comfortably) incorporated as part of the 4 star Jayakarta Beach Resort. Set amidst 11 acres of manicured lawns and boasting beach front access to the famed 'Blue Ocean Beach', it's location borders Legian & Seminyak, it gives ease of access to the area's premier surf breaks, restaurants and most popular shopping districts.
Room facilities:
This large 50sq meter apartment is on the top floor of the hotel complex therefore very private and quiet, it has stairs or lift access. The air-conditioned master bedroom boasts a King size bed, 32 inch LCD TV with Satellite and DVD player. The main area has a kitchenette area with tea and coffee making facilities, toaster,  microwave, large family refrigerator, glasses and cutlery. The air-conditioned lounge area has a modern modular lounge-suite, a 56 inch HD TV with Satellite and DVD player .  ​
There is also a separate queen bed/king single bunk ensemble, perfect for a second couple, teenagers or children. ​A portable cot is available for small children. A large double balcony overlooks the main entrance and enhances the apartment while letting abundant natural light to filter into the rooms and giving extra living space; opening to include the outdoors providing a place to sit for morning coffee, a late afternoon read and at sunset to enjoy the twilight breeze.
The room has the extra advantage of;  The full use of all hotel facilities and abundant off street parking for cars and bikes, this allows you to hire and explore the island at your own leisure and keeps your vehicle safe. Full security around hotel, at all desks, patrolling and manning of the front and rear gates; makes you feel protected and at ease at all times. The room is perfect for couples and families alike, plenty of room to move and relax!!!!
Legian
Rates 2018/2019
Villa Karma Legian – 2 Bed/2 bath
AUD $180-00 per night – 4 people (2 x bedrooms)
AUD $150-00 per night – 2 people (1 x bedroom)
Villa Karma, Legian is a 2 bedroom/2 Bathroom villa which has been fitted out with a warm contemporary feel but is also very traditional in its layout design.
Downstairs it boasts a vast master bedroom retreat featuring a king size Balinese carved 4 poster bed, heaps of storage, in room safe & connecting en-suite with a luxurious terrazzo bath, all of which opens directly onto your own private pool area.
On the same level is also a large open air living/dining and kitchen space featuring all the mod cons and second bathroom with an outdoor shower.
Upstairs we have a spacious loft bedroom with another Balinese carved 4 poster Queen Size bed, with plenty of storage and in room safe.
Features:
Your Villa stay includes a return airport transfer – please advise your flight details at time of booking.
Air conditioning in both bedrooms, 2 x Safes, 2 bathrooms – one which features and outdoor shower & the main with a luxurious terrazzo tub, Luxury bathroom amenities, Hair dryers, DVD players & Flat screen Televisions in all rooms, Satellite TV & Music System, Free Wifi, Fully equipped kitchen with Microwave, Complimentary bottled water during your stay, Villa Serviced daily (except Sundays), Tropical private pool, Outdoor shower
 Other Services which can be organised to the Villa direct:
1 additional Rollaway bed can be added if required at an extra charge per night, Transport, Tours, Motor Bike Rental, Laundry Service, Baby Sitting, Spa Service, Yoga Instructor
During your stay please feel free to make yourself at home and make Villa Karma your own on this beautiful Island of the Gods.
All guests must be registered to stay in the villa and a copy of their passport will be required at check-in. Please bring a copy with you.
Villa Poppy Legian – 3 Bed/4 Bath
AUD $180-00 per night – 4 people (2 x bedrooms)
AUD $220-00 per night – 6 people (3 x bedrooms
Nightly rate includes return airport transfer's
Nightly Rate is per villa for maximum 4 people – Villa Karma 
6 people – Villa Poppy
3 Nights Minimum Stay
Extra Rollaway AUD$30-00 per night
Late Checkout:
A Late checkout can be arranged and will be charged as   follows:-
Until 6-00pm – Half Night rate
Until 9-00pm – Full Night rate
Nyepi Silent Day falls on the 7th March 2019 
No check-in or check-out on 7th March 2019
Terms and Conditions:
A 25% deposit is required to confirm reservation and the balance is payable 30 days prior to arrival.
Please note, we are only able to hold a reservation for 14 days without a deposit payment.
The deposit will be non-refundable if:
No notice is given (no show)
Cancellation is made within 14 days prior to arrival in low season and within 30 days prior in High/Peak season. If cancellation is made after the above period, the deposit will be refunded minus bank charges and a 20% administration fee. Under special circumstances management may allow deposits to be transferred to a future date.

Payments can be made to Check You In Travel & Tours by Cash, EFT Direct deposit, or by credit card. We accept Visa and Master card, however all payment with credit cards will be charged an extra 1.5% to 3% (dependant on card type) due to bank charges.
Please note – Once here your accommodation costs are also non-refundable if you decide to leave prior to your booked departure date.
Check in time: 14.00 hrs (2 PM)
Check out time: 12.00 Noon
Use of all facilities including our swimming pool is at your own risk.
Guests are liable for any breakages beyond normal wear and tear.
Villa Karma & Villa Poppy, Legian are not responsible for any occurrences resulting in personal or property damage due to acts beyond our control.
Please be aware of wet areas and uneven surfaces as guests are responsible for their own safety whilst on Villa Karma, Legian's property.
Although our staff are very competent and trustworthy, please use safes provided in each villa.
As the swimming pool is unfenced please ensure children are supervised at all times. We can arrange for temporary pool fencing be erected at the guests cost.Nyepi day is the Balinese day of silence.  The day  before Nyepi everything shuts down by midday so it is important to get money and essential items for that evening and the following day. The streets come alive with celebrations and it is a great tradition to experience. On Nyepi Day you are not permitted to leave the villa and you are asked to respect this day and keep noise to a minimum. There is no check-in or check-out on Nyepi Da

WHAT IS NYEPI DAY:
Nyepi day is the Balinese day of silence.  The day  before Nyepi everything shuts down by midday so it is important to get money and essential items for that evening and the following day. The streets come alive with celebrations and it is a great tradition to experience. On Nyepi Day you are not permitted to leave the villa and you are asked to respect this day and keep noise to a minimum. There is no check-in or check-out on Nyepi Day.
Legian
Villa Sungai
Villa  Sungai .. just off Legian Rd nestled between Padma St and Rum Jungle Rd .. JI Sri Rama – next to Arama Riverside Legian …. 
three bedrooms , three bathrooms,  maid service , wifi and cable TV… 
3 bedrooms – $160 per night 
2 bedrooms – $130 per night 
1 bedroom – $110 per night 
Stays of 5 days or more & receive a free iced cold esky of 24 Bintang on arrival .. for bookings email niki.balibuddy@gmail.com
Includes airport transfers, Wifi and maid service. Air  conditioned enclosed living – Great value for money.
Located just off Legian Rd, a few minutes walk to Rum Jungle Rd, Padma St and Double Six
Legian
1 bedroom – $150 per night for two people 
2 bedroom – $180 per night for four people 
3 bedroom – $220  per night for six people 
Agung Rakas Padma Utara – Legian
Nestled next to Three Brothers Hotel And Garden View Cottages off Padma Utara …  in a perfect location only 300 metres to the Famous Padma Beach…and surrounded by fabulous shops and great eats – sort after Legian Location 
3 bedrooms – 3 bathrooms all with Ensuite .. 2 rooms upstairs … 1 room down stairs …
Price includes  –Airport Transfers, Wifi, Indovision, Unlimited Water, Daily House-keeping – except Sundays 
Extra bed POA … 
Legian
Villa Frangipani Anni  Email: niki.balibuddy@gmail.com
$120 per night
PRIVATE & PRIME LOCATION!!
Relax and enjoy open plan living flowing to your own private pool and garden, or take a 3 min walk to the popular Legian Beach.
Bedroom with ensuite, second bathroom & huge upstairs 2nd bedroom with leafy surrounds.
Guest access
LOCATION, LOCATION LOCATION! Just seconds to popular restaurants, bars, shopping, spas and just a 3 minute walk to Legian beach
Interaction with guests
Our house keeper will meet and greet you with your key on arrival and will drop in during your stay to answer questions and offer helpful local tips for you to make the most of your stay in Bali.
Other things to note
Long term rental rate available on request
Amenities
Kitchen, Heating, Wireless Internet, Cable TV & Air Conditioning.
There is an ensuite attached to the main bedroom down stairs and the second bathroom downstairs.
Seminyak and Surrounds
Seminyak is one of the most vibrant and eclectic areas in Bali. From 5 star resorts to local lodgings, boutique shopping and home-grown markets, Seminyak and its surrounds has something to offer everyone. The beach with its laid back bars are a great place to unwind on any given afternoon, before dressing up (or not) and heading out to some of the finest restaurants Bali has to offer.
Seminyak beach
High end shopping boutiques and local markets within walking distance
Beachside bars, casual dining and fine dining restaurants all close by
Medical Centre and Pharmacy located in Jalan Laksmana; Seminyak's main street
Commonwealth ATM and reliable money exchange in Jalan Champlung Tanduk, located just around the corner from your villa
Star Mart Supermarket has a good range of essentials & is located in Jalan Champlung Tanduk
Depending on how busy you plan to make your stay in Seminyak, there are numerous attractions, all within walking distance of your villa, including:
Art galleries, Day spas and beauticians, Buddha gallery, Cooking classes, Yoga and Pilates studios & Petitenget Temple
Seminyak
Villa Jembatan D 'Carick – For bookings please  Email niki.balibuddy@gmail.com  $180 per night. 
UNBELIEVABLE price of $180 per night,  for booking through Bali Buddy, that's less than $30 per person. Usually $200-$220 For bookings of 7 nights. This lovely 3 bedroom villa Jembatan D'Carik in Seminyak, sleeps 6, near to the boarder of Legian. Less than one year old, two queen bedrooms and one twin all with their own ensuite bathroom. Fully equipped kitchen, fully enclosed, own private pool.  Air conditioning and ceiling fans. In a of block 6 (1 other villa in same group available for larger groups) can sleep 12 people with private security from dusk til dawn. Unlimited wifi, daily housekeeping, 70 channels on 2 TVs and DVD player to all 3 TV's
Seminyak
PRICES
$195 1 BR     $250 2 BR    $310  3BR
15 Dec – 15 Jan   Peak season  + 20%
Villa Mandy of Seminyak is fully self contained and has been fitted out to a high standard by an interior designer. Your own personal visiting housekeeper will assist with bedding and cleanliness on a daily basis. Featuring a luxurious pool and outdoor deck, Wifi, 3 bathrooms and bedrooms, high ceilings, French influenced decor and King luxury bedding, you'll wonder why you ever stayed anywhere else but Villa Mandy of Seminyak. Villa Mandy of Seminyak  is located close to cosmopolitan Seminyak, Double Six beach and the best selection of breezy outdoor bars and high class restaurants in the area. High end boutique and market shopping along with The Bintang supermarket, medical centre and chemist are also in close proximity. Villa Mandy of Seminyak is only 15 minutes from the Airport and 10 minutes to central Kuta where you will find Markets, Waterbom Park and Centro Shopping Centre.
AMENITIES
Sleeps 6
3 x Bedrooms  3 x Bathrooms
2 x King Sized Beds
1 x 2 Single Beds (Easily Made Into 3rd King Size)
High Quality Linen (Daily Housekeeping)
TV and DVD players in each bedroom
Large Open Plan Living Area
8 Seater Dining Setting
MODERN CONVENIENCES
WIFI Internet
Cable TV and DVD Players
Use of local mobile phone
Daily Housekeeping Service
Transfers to and from airport included for stays of 7 nights or more
Private Pool
Self Contained Kitchen
Full Size Fridge With Ice Maker
Music system with docking station, bluetooth and CD player
Seminyak
2A Jalan Drupadi 1 Seminyak  Villa Indalia is a 3 bed room Villa, 3 bathrooms, private pool, villa staff & security – $160 per night. Now for bookings until 30.6.2019 ONLY $125 per night. Villa Indalia is a private, three-bedroom villa in Seminyak. It's a fantastic location. This 3 bedroom , 3 bathroom private villa is close to all shopping, markets, restaurants, bars, safe, spa centre & beaches. Villa Indalia features a private swimming pool
Features:
Fully air conditioned (bedrooms & living room)
Free Wi-Fi
Swimming  pool
3  large bedrooms (2 x queen beds & 1 x twin)
Bottled water for the duration of your stay
Ceiling fan living room
Maid service for daily cleaning – except Sundays
Laundry service available – small cost
Large flat screen TV in living room with sound system, Cable TV & DVD/CD player
Flat screen TV & DVD in main bedroom
Kitchen area with cooktop, fridge, microwave & cooking utensils
Cushioned sunbeds & outdoor table & chairs around the pool
Balcony upstairs off main bedroom with large sitting area & Bali Bale
1 x bathroom off each bedroom
Safe
Villa Indalia can be open or closed to the outdoors which is great for little ones for pool safety. No security guard – Villa Indalia is walking distance to J1 Seminyak (ideal for shopping, markets, Made's Warung, Mannekepis Restaurant, J1 & Kunti 1 (great Italian, Chinese & French Restaurants) 5 minutes walk to J1 Dhyana Pura (Clubs, bars, live bands, discotheques & international restaurants) 5 minutes walk to Bali Deli supermarket (great choice of imported cheese & meat) 5 minutes walk to Bintang supermarket 10 minutes walk to Oberoi Street (J1 Laksmana) known as Eat Street of Seminyak…. many first class international restaurants & high end bars.
REVIEWS First Timer For Bali !" Villa Indalia was all its talked up to be ! We found the location was great for Bali first timers, as your in with excitement with the benefits of being hidden away from the main roads ! Located in central Seminyak, everything you need is within walking distance. The maid service was outstanding ! My family and I were over impressed with how good of a job the maid service was. Sheets were changed daily, beds were made, dishes washed, house swept, pool cleaned, everything was immaculate all within a couple of hours ! Hours of which we were out 🙂 We arranged for our laundry to be done, and it was next morning completed… There is a great sound system included and was very convenient when relaxing by the pool listening to Australian music provided by the villa. – A fantastic stay, would stay there again and would definitely recommend this to all Bali explorers looking for a decent priced, value for money family appropriate villa.
review
"Very nice place to stay" After 25 years of Bali holidays we believe this villa is the best we have experienced in Bali. The House keeper is 1 in a 1000,speaks very good English,able to deal with anything. We enjoyed privacy and security and could basically do anything at any time. The fridge was well stocked with refreshments, the villa was spot on for tidiness and clean. It is hard to describe the location as unless you are familiar with Bali: here goes, Seminyak is regarded by many to be the very best place in Bali to stay and I agree. The villa is about 300 feet from Jl Seminyak (Seminyak road) very central to go out from on foot or to day trip, we walked down to Kuta twice and walked to the beach at Semiyak many times. We have been let down a few times when hotels advertise and promote facilities that are not what they say however the owners of this villa have perhaps under stated the quality … a pleasant surprise for me when we arrived. The only negative thing I can say is not related to the villa, the air port has been undergoing some kind of upgrade to parking and as a result is quite a hike to the car. Please note: I have no relationship with the owners and I dont usually write reviews of hotels or villas however I believe in credit where credit is due… We enjoyed our holiday because the villa is well managed.
Review
A hidden gem ideal location hidden just off the main road…vey quiet yet close to all cafes, restaurants and could take the kids out for breakfast each day. The Villa was cleaned daily and the pool was a real beauty especially after a morning shopping with the girls…. A great little villa with a magic location and great vibes and will definitely recommend this Villa to all our friends. Sarah Queensland Australia I stayed in September with 2 girlfriends & this Villa was seriously close to everything. A 1 minute walk to Geneva Handicraft Factory. 2 minute walk to Mamasan Restaurant and 3 minute walk to all shops on Seminyak Rd and all restaurants on Oberio Street. We felt very safe with 3 security guards and  4 other villas around us. This Villa was perfect for our girls holiday experience. I'm in the middle of booking with them again for our holiday a Easter with my husband & 2 children. A perfect Villa  at a special price. "Great Location" Overall my wife & I had a great experience at this Villa the location is great 1 min walk to Seminyak rd. The Villa itself was brilliant well finished and decorated staff were great and nothing was too much trouble. We will be returning..Highly Recommended Julie Geelong Victoria Australia I stayed at this Villa with my family of 5 adults & 2 children. The Villa is as described and had plenty of garden space outside the villa door. it is very private and quiet. The staff were fabulous and nothing is too much trouble. Wayan the cleaner is the best always happy smiling face and went about his work without intrusion. We had a pool fence erected which gave us peace of mind for our 20month old. The location is great and a minute walk to the main street of Seminyak. The Villa driver Pulu was always prompt and spoke good enough English. We arrived after 10pm and all the staff were there to greet us and introduce themselves. This villa certainly met our expectations. Not enough Bali – Central Coast NSW Australia The Villa is in a fantastic position…close to everything you need. Wayan & Nyoman attend to all your needs and are fantastic. The Villa is clean & comfortable & being able to close the living rooms doors and being cool is a big plus… would highly recommend. Nicholas – Perth WA Australia We stayed at the Bali Buddy 2 Villa for 6 nights. Great location near Binian supermarket behind Queen Tandoon Indian Restaurant (ate there & food great). Being behind quite a well known restaurant made it easy when telling taxis where to take us. We took one of their brochures and would show to the drivers if they had not heard of the place. Also very close to Eats Street & our favourite restaurant (Nirvanas). The cleaner came every day & did a fantastic job…so helpful….we only had to ask for anything & help would be there immediately. We couldn't get the hot water to work in the showers & mentioned it to Wayan…5 minutes later a man came & jiggled the tap in the shower & hey presto "hot water" again. (we all learnt to give it a try). The Villa was extremely clean & well set out with the main bedroom & bathroom upstairs (steep not recommended for the elderly) Fantastic room. The 2 other bedrooms are downstairs each with its own bathroom very well set out with the living area between for better privacy etc. The pool is lovely & quite big for private villa standards in Bali. Outside area cute & compact but more than adequate. Hayley Perth WA I would highly recommend the Villa Indalia in Seminyak, we stayed for initially 5 nights then left to go to Lombok we then returned for our last 3 nights to Bali Cinta Villa, the location was ideal and was only 3 doors down from a circle K so was convenient if we needed anything in the villa. The Villa is clean and the décor is very modern, fresh linen, towels each day & the staff were very accommodating helping us with our phone sim card etc. Great security on site, the Villa was private & secure, great staff, we loved to lay by the pool in the afternoons & really enjoyed the massage staff who came to our Villa. The staff helped organise a scooter which helped us to get around Bali to see some of the wonderful things in Bali has to offer…seriously wanting to go back asap. Robert Bondi Beach NSW Australia
Seminyak
Villa Iilu – Email niki.balibuddy@gmail.com
$250 per night for 6 adults & $300 per night for 8 people….Extra bed P.O.A
Villa Iilu is in the perfect location to suit all your needs. Bali Deli is a stone's throw away located just a short 5 minute walk to Jalan legian/Seminyak where you will find places such as Shelter Cafè, Nalu bowls and Bo & Bun.
The villa offers 3 bedrooms all separate to the living areas fitted with king sized beds, deluxe pillow topped mattresses and luxury linen. Ensuites in all bedrooms featuring both showers and traditional Balinese bathtubs.
Each bedroom is air conditioned that all lead out to the 15m swimming pool and lush gardens. 
Above the bedrooms is a roof top terrace which features sun lounges surrounded by palm trees and a traditional Balinese day bed. The perfect spot to enjoy some much needed downtime watching the sunset. 
As soon as you walk into Villa Iilu you will notice the high thatched traditional Balinese roof along with the spacious grounds. Custom made furniture and soft furnishings are the final touch to this true piece of paradise. 
The open plan kitchen, living and dining is super spacious leading out to the pool area where you will find bean bags to relax and enjoy the villa. 
A separate TV room off the main living area features a traditional day bed,  Balinese mirror, palm trees and cable TV. 
Bedrooms
–  Sleeps 6 with the option at 8 maximum, 3 x king sized bedrooms with ensuites including a bathtub, 1 x safety deposit box in the main bedroom, High quality linen and towels provided, Daily housekeeping, Open plan living/kitchen & dining area, Full equipped kitchen, Unlimited filtered water cooler, 6 seater dining setting, Industrial fan, Guest toilet, Tropical palms and Balinese statue 
TV Room – Flat screen TV, Cable TV and DVD player, Overhead ceiling fan, Tropical palms
Outdoor area – 15m swimming pool, 2 x sun lounges and umbrella on the roof top, Lush tropical gardens and palm trees, Beanbags
 VILLA SERVICES INCLUDED IN THE NIGHTLY RATE:
 Airport pickup service, Fruit platter on arrival, Unlimited Wi-Fi, Cable TV & DVD player, Sound System, Use of local mobile phones, Unlimited drinking water, tea and coffee, Complimentary daily housekeeping, Private swimming pool, All linen and towels provided, Fully self contained kitchen, Air conditioned bedrooms, Private off street parking to accommodate 2 cars
At an additional cost breakfast can be provided by our freelance chef.
Seminyak
The Nakula Villas – Email niki.balibuddy@gmail.com
General
24-Hour Front Desk, Garden, Terrace,  Safety Deposit Box, Luggage Storage, Air Conditioning, Sun Terrace, Breakfast daily – Shuttle service
Activities
Massage, Outdoor Swimming Pool (all year)
Internet
Free! Wi-fi is available in the entire hotel and is free of charge.
Parking
Free! Free public parking is possible on site (reservation is not needed).
The Nakula Villa Services
Welcome Drinks • Full mini-bar only on arrival • Fresh Flowers upon arrival • Fruits • Breakfast
Additional Service Charge : • Car and Motorbike Rental • Tour Service in front desk • Visa Service  • In villa spa treatment • In villa dining • Barbeque in villa at extra cost.
Welcome to The Nakula Villas. Named after the fourth brother of the mythical Pandawa, The Nakula Villas are a newly built villa situated in the new expanding east side of the famous Seminyak. The Nakula Villas are only 10 minutes drive from Double six Beach, 7 minutes drive from Bintang Supermarket, 15 minutes drive to Denpasar, and 30 minutes drive from the airport.
| | | | | |
| --- | --- | --- | --- | --- |
| NO | ROOM TYPE |   LOW SEASON |   HIGH SEASON |    PEAK SEASON |
| 1 | One Bedroom Villa with Private Pool |   IDR 1200000 |   IDR 1500000 |   IDR 2000000 |
| 2 | Two Bedrooms Villa with Private Pool |   IDR 2000000 |   IDR 2300000 |   IDR 3000000 |
| 3 | Three Bedrooms Villa with Private Pool |   IDR 3000000 |   IDR 3300000 |   IDR 4000000 |
| 4 | Four Bedrooms Villa with Private Pool |   IDR 4000000 |   IDR 4300000 |   IDR 5000000 |
Rate is net inclusive of 21 % government Tax and Services Charge
HIGH SEASON ( 1 July-31 August ) , PEAK SEASON ( 20 December-10 January )
Extra bed charges will be US$ 30 N/R/N Include ABF for adult or children above 12 years old
Free late check out until 18.00 for minimum stay 5 days special.
Additional beds are available upon request with a maximum of three people per bedroom
• Breakfast for 8 persons ( Family Villa / 4 rooms)
• Breakfast for 4 persons ( 2 bedroom villa ) and 2 persons (room)
Seminyak
Villa Kailysa Indah – Email niki.balibuddy@gmail.com
$235.00 per night
From the moment you step through the doors at Villa Kailysa Indah, you know all your holiday dreams have come true. The villa's comfortable living area welcomes you into another world of charm and luxury. The revitalising pool invites you to cool off from the tropical Bali heat, and the luxurious bedrooms are waiting for you to rest and relax after a long day of exploring, shopping and dining.
We cater to the adventurous; the travellers with jam packed days of sightseeing, tours, shopping, wining and dining, and the travellers who want to indulge in some much needed R&R- make sure to pack your favourite book and plenty of sunscreen, then pull up a sun chair and laze away the hours beside Villa Kailysa Indah's sparkling  pool.
Villa Kailysa Indah is here to provide you with an unforgettable holiday. Your private villa awaits.
Set in Seminyak, 1.1 km from Ku De Ta and 1.2 km from the Seminyak Square Shopping Mall, Villa Kailysa Indah offers FREE WiFi & air-conditioning. The property features pool views and is 1.7 km from Petitenget Temple and a 14 minute walk from Oberoi Street.
The Villa is composed of 2 bedrooms, a dining area, a fully equipped kitchen & 2 bathrooms. A flat screen TV with cable channels & a DVD player are offered.
The Villa offers an outdoor pool. A bicycle rental service is available.
La Lucciola Restaurant is a 20 minute walk from the accommodation. The nearest airport is Ngurah Rai International Airport.
 Seminyak
$185 per night
Built in early 2018, Villa Ruko Seminyak is a luxurious 1 bedroom "shop-house inspired"  pool villa, featuring polished concrete walls and bathroom.   We sit next to Seminyak Square so on the doorstep to all Seminyak has to offer.
Your own personal visiting housekeeper will assist with bedding and cleanliness on a daily basis.
Bedroom & Bathroom Capacity
Sleeps 2 (We are an adult only villa), 1 x King Sized Bed (+ foldout bed available), High Quality Linen (Daily Housekeeping), 49 inch smart TV's – both upstairs and downstairs
Modern Conveniences
Free fast WIFI Internet access, 2 x 49 inch smart TV's, Hair Dryer, Daily Housekeeping Service, Transfers to the villa are included for stays of 4 nights or more, Private Pool, Fridge/freezer kettle, toaster, Nespresso machine & Sony Bluetooth speaker
Living Area
Open Plan Living Area with closable bifold doors, 49 inch smart TV, Luxurious couch & Kitchenette
Check-in Times
Check-in time 2:00PM
Check-out time 11:30AM
Bukut – Pandawa Beach
$1100 per night – Sleeps total 10 guests
Banyu Biru Villa is situated on a long, narrow, rectangular strip of land on the southern shore of Bukit Peninsula, this luxurious cliff top villa offers spectacular views of the Indian Ocean & Bali's famous sunsets & facilities that you hardly find in any other villa.
Because of the spectacular view, the high-quality services, the 5 star facilities including a  butler, the Banyu Biru Villa represents outstanding value.
The location is about 20 minutes drive to the many legendary surf spots near the famous Uluwatu Temple. Bali's best secret beaches are a similar distance away & it takes about 30 minutes by car to Jimbaran or Nusa Dua, 40 minutes to the airport, & 60 to 90 minutes to Kuta, Seminyak or Sanur. The location on the Bukit (hill) on the Southern peninsular usually guarantees sunny days even when it is raining in most parts of Bali.
The Villa is set on over 1,000sq meters of land, this beautiful two storey villa with an iconic 3 x15 meter lap pool on stilts which almost resembles a boat on a dry rock, seemingly floating. This unique pool is the central focus of the house; it even has cute portholes in its hull with water overflowing from the upper swimming pool to the lower paddling pool & pond, the sound of water is ever present.
The upper level of the villa accommodates the living & entertainment area – the air conditioned kitchen & dining room, an open BQ area & the master suite
There are 2 day beds next to the swimming pool which are convertible to be six deck chairs. From the lap pool, a wooden path brings you to the upper level of the sea-front Bale where you can enjoy the sea breeze & a truly spectacular view.
The lower level of the villa accommodation & open area (with a comfortable day bed) consists of  a smaller 9 x 5 meter pool with a long pond (perfect for the children), the air conditioned TV & entertainment room & 2 guest bedrooms. The landscaped gardens features a bale near the edge of the cliff, with coconut trees growing on the right wall & various orchids along the left wall.
The Banyu Biru Villa has 3 air conditioned bedrooms; the master bedroom on the upper floor features a king size bed & large floor to ceiling glass windows overlooking the swimming pool as well as the ocean. It has a private bathroom with walk-in robe, a large bathtub & double sinks.
Guest bedroom 1 is located right below the master bedroom. It has the same size bathroom as the master & overlooks the garden & swimming pool, it's bathroom has a double sink & shower. The other guest bedroom has twin beds & also faces the garden & swimming pool & it's own bathroom with double sink & shower.
All bedrooms have air conditioning & LCD TV sets connected to a satellite system to receive international news, sports & movie channels
Facilities & Services
The living quarters are on the upper level & there is a comfortable sofa & a Bose sound system connected to the other four areas.
The kitchen is air conditioned & is fully equipped & features a large refrigerator, stove, oven, microwave, blender, crockery, cutlery & glasses to entertain in style. The open air BBQ area offers complete BBQ equipment including a refrigerator, a bar & comfortable sofas.
The TV & entertainment room is air conditioned & has a 42inch Sony LCD TV set connected to a satellite system to receive international news, sports & movie channels. There is also a DVD player & a Pioneer sound system installed.
The well trained staff includes a cook, maids, a house boy, a gardener & security guard. All staff members wear uniforms & name tags making identification easy.
Your Butler will take care of all your arrangement from planning meals, serving your afternoon tea & arranging parties in your Villa to visiting attractions, going shopping or organising activities & is available around the clock.
Your air conditioned car with a reliable driver is included in the rates & at your service whenever needed.
There are 2 swimming pools. 1 – 3 x 15 m pool on the upper level & a 9 x 4m paddling pool on the lower level.
Soap, shampoo, bath gel, cotton buds, hairdryers, cotton robes & slipper in all bathrooms.
Personal electronic safes in all bedrooms.
Back-up power generator
24 hour security
Free internet access
Free use of mountain bikes (please reserve in advance)
Free use of the air conditioned car with a reliable driver for up to 10 consecutive hours per day during your whole stay.
Chilled bottle of wine on arrival.
Ubud
Deluxe Rice Field Room View – 550.000 per double per night approx $55 AUD 
One Bedroom Pool Villa – 1.200.000 per double per night approx $120 AUD 
Four Bedroom Pool Villa – 2.450.000 per villa per night approx $245 AUD 
Extra Bed – 250.000 approx -$25 per night 
Includes – 
Welcome Drink, Daily Breakfast, 2 Bottles Water Daily, Shuttle Bus Service to Ubud, Drop Off at 10am,1 pm & 7pm.
Pick up at 1.30pm & 7.30pm, Maid Service, Coffee and Tea Making Facilities & Wifi 
1 night / 2 days Package
Room type : Deluxe Rice Field View Room. Price : IDR 2.240.000 net / couple ( 2 persons )
Additional night : IDR 700.000 net/night include breakfast
Additional person : IDR 1.020.000 net/persons
Inclusions: One night stay in a relaxing Deluxe Rice Field View, Breakfast, Welcome drink upon arrival, Mineral water in the room, Fresh tropical fruit in the room upon check in. 1 time Bike Tour, inclusive of : tour guide, biking gear, refreshment drink, lunch,  1,5 hours full body massage at Kubu Bali Spa
2 nights / 3 days Package
Room type : Deluxe Rice Field View Room
Price : IDR 4.140.000 net / couple ( 2 persons )
Additional night : IDR 700.000 net/night include breakfast
Additional person : IDR 1.620.000 net/persons
Inclusions; Two nights stay in a relaxing Deluxe Rice Field View, Daily breakfast, Welcome drink upon arrival, Mineral water in the room, Fresh tropical fruit in the room upon check in.  1 x Bike Tour, inclusive of : guide, biking gear, refreshment drink, lunch. Cooking school inclusive of : market tour, cooking teacher, food material, cooking utensils, Lunch, cooking tutorial,  1,5 hours full body massage at Kubu Bali Spa
3 nights / 4 days Package
Room type : Deluxe Rice Field View Room
Price : IDR 5.240.000 net / couple ( 2 perosns )
Additional night : IDR 700.000 net/night include breakfast
Additional person : IDR 1.870.000 net/persons
Inclusions: Three nights stay in a relaxing Deluxe Rice Field View, Daily breakfast, Welcome drink upon arrival, Fresh tropical fruit in the room upon check in. 1x Bike Tour inclusive of : Tour guide, biking gear, refreshment drink, lunch.  Cooking school inclusive of : market tour, cooking teacher, food material, utensils, cooking tutorial & Lunch. Rice paddie trek with guide. 1,5 hours full body massage at Kubu Bali Spa
5 nights / 6 days Package
Room type : Deluxe Rice Field View Room
Price : IDR 7.740.000 net / couple ( 2 persons )
Additional person : IDR 2.220.000 net/persons
Inclusions: Five nights stay in a relaxing Deluxe Rice Field View, Daily breakfast, Welcome drink upon arrival, Fresh tropical fruit in the room upon check in.  1x Bike Tour inclusive of : Tour guide, biking gear, refreshment drink, lunch. Cooking school inclusive of : market tour, cooking teacher, food material, utensils, cooking tutorial & Lunch. White water rafting, Rice paddy trekking with guide, Yoga class,  1,5 hours full body massage at Kubu Bali Spa
Term & Conditions :
– Rate valid for 2 persons ( 1 couple )
– Cancellation within 14 days subject to 50% cancellation fee
– Cancellation within 7 days subject to 100% cancellation fee
Kubu Bali Baik Facilities
Spa and wellness centre, Free Wifi entire villa, LCD TV (Cable Channels), Telephone, Restaurant & Bar, Minibar, Free private parking on site, Safety deposit box, Air Conditioning, Swimming Pool, Bathing facilities, Tea/Cofee making facilitiesKubu Bali Baik Services

Room service, Laundry, Shuttle service to Ubud center (free), 24-hour front desk, Airport shuttle, Express check-in/check-out, Tour desk, Ticket service, Luggage storage, Concierge service, Babysitting/child services, Ironing service, Daily maid service, Fax/photocopying, Wake-up service, Car hire
Ubud
Monkey Forest Road Jalan Wenara wana Lumbung Sari Cottages Balinese owned cottage, centrally located in Monkey Forest Road in Ubud. Standard Room from US $80 per night, Superior Room from US $90 per night Deluxe Room from US $130 per Night Lumbung Sari Cottages is an exciting boutique resort and is surrounded by lovely shops, spas and famous Restaurants, only minutes walk to Monkey Forest and Ubud Art Market. The resort is set a little back from the road and manages to keep a feel of tranquillity. Enhance the Balinese experience with genuine warm welcome of our Balinese staff, unwind at our pool-side café while you enjoy FREE afternoon tea with Balinese pastries and sunbathing on our relaxing pool deck amid the peaceful environment surrounded with lush gardens and a water fountain. Our 14 spacious bedrooms and luxurious bathrooms with it's natural colours and textures in traditional style ensure guest comfort; complete with the main swimming pool provides a very pleasant and relaxing ambience. Lumbung Sari Cottages staff offer professional service from the moment you arrive making your stay truly a memorable one. Deluxe Rooms Six Double or Twin Deluxe Rooms housed in a contemporary unit, features spacious bedrooms , bathroom with bath tub, stand shower, hot water and large verandah or Balcony facing to the Swimming Pool. The room design in a modern style blended with Balinese carved white stone decoration and wood railing. This room is ideally for the traveller who is looking for a modern lifestyle while experiencing the Balinese hospitality. Sizes – Bed Room  33m2 (3.1mx3.8m) Terrace –  8m2 (1.3mx4m) Bathroom – 9m2 (3.1mx3,8m) Superior Rooms – Four Standard and four Superior rooms are housed in two storey Balinese style unit. Features a bath tub with hot shower, large verandah or balcony. The furniture and artwork are displayed in harmony with the Balinese carved door and windows, there is also exposed walls made with handmade bricks. The Superior rooms have mosquito nets and stand shower where they are not available in the Standard. The room is designed for travellers who are looking for the Balinese lifestyle holiday. Prices include Buffet breakfast.
Ubud
Kamplung Hotel – $45 per night per double includes breakfast & WiFi – Email

niki.balibuddy@gmail.com
Look no further than Kampung Ubud Ibunda Bungalow, if what you're looking for is a conveniently located budget hotel in Ubud Bali. From here, guests can enjoy easy access to all that the lively city has to offer. With its convenient location, the hotel offers easy access to the city's must-see destinations. The facilities and services provided by Kampung Ubud Ibunda Bungalow ensure a pleasant stay for guests. Wi-Fi in public areas, car park, room service, airport transfer, car hire are just a few of the facilities that set Kampung Ubud Ibunda Bungalow apart from other hotels in the city. Experience high quality room facilities during your stay here. Some rooms include air conditioning, balcony/terrace, mini bar, desk, television, provided to help guests recharge after a long day. The complete list of recreational facilities is available at the hotel, including outdoor pool, spa, garden. Superb facilities and an excellent location make the Kampung Ubud Ibunda Bungalow the perfect base from which to enjoy your stay in Bali. Cooking classes $25 per person for 5 courses
Ubud
Gana Villa Hotel – Email
niki.balibuddy@gmail.com
Low season  
Superior Room $55 per night 
1 bedroom villa $65  per night 
 High season
Superior Roo. $60 per night 
1 bedroom villa $70 per night 
The Hotel can easily accommodate a small family or individuals who needs room to spread out.
The list of features makes it especially attractive to guests seeking a long-term stay. Free Wi-Fi Internet connectivity is available throughout the Hotel. Special pricing consideration given to long stays past 30 days. Advance booking is recommended.
First storey
Large room twin bed, large open deck with seating and outside dining area, living room with comfortable chairs, adjacent kitchen with sink, gas stove top and cold box, 19 litre bottled water dispenser, western style bathroom with tub, hot shower and sit toilet, adjacent dressing room with large wardrobe.
Second storey
Large room double bed, windows on 3 sides for plenty of  natural light, air conditioned; fan optional, desk for office area.
Superior Room
This air-conditioned room offers a terrace with seating area over looking a garden view, flat screen TV, and an en suite bathroom featuring shower and bath facilities.
Room facilities: Mini-bar, Shower, Seating Area, Bath or Shower, Flat-screen TV, Electric kettle, Garden view, Terrace, Towels
Villa size: 16 m²
Room 1: 1 Extra-large double bed(s) 181-210 cm wide
Other Facilities
Wi-Fi, beautifully landscape private garden, colour TV with access to satellite international news channels, breakfast, telephone, coffee, tea, water available for free.
Puri Nusa – Nusa Lembongan
Parking,  WiFi & Shuttle from boat ramp
Puri Nusa Beach Hotel is a beachfront accommodation in Lembongan. It features a spa centre and an outdoor pool with great views of the sea. Free WiFi and private parking are available at the property.
All of the rooms at Puri Nusa Beach Hotel have a seating area and a private bathroom with a shower and free toiletries.
The property offers tour desk, bicycle rental  and car hire with additional charges. Guests can enjoy the on-site restaurant and bar, as well as engage in various activities, such as diving, snorkelling and fishing.
Blue Corner is 400 m from Puri Nusa Beach Hotel, while Mangrove Point is 1.8 km away. The nearest airport is Bali Denpasar International Airport, 32 km from Puri Nusa Beach Hotel.
Ocean Room – air conditioning, hot & cold showers, king size bed with mosquito net, private ocean view balcony. $55 includes breakfast.
Deluxe Room – air conditioning, hot & cold showers, king size bed with mosquito net, private ocean view balcony. $55 includes breakfast
Superior Room – ceiling fan, cold shower, king size bed/twin bed with mosquito net, private ocean view balcony. P.O.A
Standard Room – ceiling fan, cold shower, twin single bed, private ocean view balcony. P.O.A
Nusa Lembongan
Deluxe Room $65, Family room $60, Standard Room (fan only) $30 Breakfast & FREE WIFI
Triple Room $60
There are 11 different rooms at Tarci Bungalows All rooms are next to the Jungutbatu beach of Nusa Lembongan, and our deluxe rooms come with perfect ocean and pool view. All rooms come with AC and private bathroom with shower or bathtub except Standard rooms, Family room sleeps 4. We have free WIFI connection and our own restaurant is ready to serve you from early breakfast to late dinner. Tarci Bungalows is a locally owned, family business that started over 30 years ago at the Jungutbatu beachfront in Nusa Lembongan. Jungutbatu beach is in the northwest of Nusa Lembongan, which is a well known paradise island southeast of the main island of Bali. Tarci Bungalows is located just in front of the famous surf spots here at Lembongan. From the restaurant, pool or our deluxe rooms, you will have perfect view of Shipwrecks, Razors, Lacerations and even down to Playgrounds. If you are looking for surfing, diving, snorkeling and fishing or just warm weather with beautiful nature and beaches, Nusa Lembongan is the paradise island for you. The water is some of the clearest you will find anywhere, and colorful coral reefs are surrounding the island on all sides. We have rental scooters at the hotel, and many water taxis are ready to take you snorkeling, diving, fishing and on island tours anywhere, anytime. The people of Lembongan always greet visitors with a warm smile, and you will find it relaxing and welcoming everywhere you go. Agus Shipwreck Bar & Restaurant, our own restaurant, is located right at the beach of Jungutbatu here in Lembongan. We serve daily breakfast, lunch and dinner with the spectacular views over the ever changing beach of Lembongan. International standard, open kitchen, with 3 different seating environments available, all with sea views and sunset setting. Every night we serve BBQ in the sunset and we arrange a popular buffet on request. Our daily menu is a well composed mix of salad, soups, seafood, meat, burgers, kebab, pasta, pizza and traditional Indonesian food. The restaurant is accompanied by a full service bar with a large selection of wine, spirits, liqueurs & cocktails. We also make many popular non-alcoholic fruit drinks, smoothies, mocktails and milkshakes. With a mix of returning long term visitors  you will find many interesting conversations at one of our different seating available at the sunset beach of Lembongan. All fresh food, No MSG, All prices include tax.
Nusa Lembongan
Rates exclusive to The Bali Buddy
Deluxe Room  AC room – 600.000 rup per Night Inlcludes continental breakfast. $60 approx
Standard AC room – 425.000 rup per night Inlcludes continental breakfast. $42.50 approx
Fan room – 350.000 rup per night includes continental breakfast. $35.00 approx
Extra bed is 100.000 rup per night .
Linda Beach Resort is located in Nusa Lembongan, another paradise island of Bali about 31 kilometres from Ngurah Rai International Airport and can be reached within 30 minutes by fast boat from Sanur. Linda Beach Resort is beach front accommodation where during your stay you can indulge in white sand beach with its crystal water right in front of the resort.
Lembongan Island – as it usually been called – becoming famous as tourist attraction mainly because its nature, especially the beaches and coastal landscape that make it Instagram worthy for the traveler to snap the picture. There are many activities and things to do in Lembongan; from snorkeling, diving, cycling, island tour, mangrove tour and of course surfing.
We can arrange you for a learn to surf session or a diving one, as well as renting surfboard & diving equipment.
Complimentary mineral water is available and daily cleaning room service.
ROOM FEATURES
Wardrobe/Closet, Clean towel & Mineral water, Daily cleaning room on request, Extra bed on request for IDR 150k
OUTDOOR – Balcony/Terrace, Garden, Swimming Pool with view to the beach
Check in 12:30 pm. Check out 11:00 am
Free pickup and drop for check in and check out
A booking cancellation policy can be varied about 30% from room rate
Nusa Lembongan
Low season – $350 
High season- $400 
Villa Keluarga (Family Villa) is located in Jungut Batu just a short 30 minute fast boat ride from Bali situated next door to Villa Mimpi Manis Nusa Lembongan.  This four bedroom villa has been designed with families in mind and can sleep up to 8 people , each room is beautifully decorated with modern décor, mixed with authentic Bali style and  modern European.
The ground floor has its own Day Spa which is available for guests only to book throughout the day surrounded by a beautiful pool infinity pool area.  The second floor is modern European with a fully equipped kitchen and two bedrooms all air-conditioned with their individual en-suites.  The third floor has a balcony lounge area with spectacular views of Bali and Mount Agung and has two bedrooms with en-suites.
The modern kitchen will allow you to cook up a meal or one of our friendly staff will offer you a menu to choose lunch from if you prefer to laze around the pool all day and watch the world go by whilst our staff cater to your needs.
This beautifully designed Villa will be a truly unique experience as we have designed it to cater for families in mind.
Balian
Pondok Pitaya – Email niki.balibuddy@gmail.com
$80 a double includes breakfast & FREE WI FI Balian Beach, Located in west Bali, 90 minutes drive north of Seminyak. Balian Beach: Pondok Pitaya Surfer Hotel is located on the edge of a natural volcanic black sand beach and beautiful cliff crafted by nature itself. The beach is perfect for long walks and has all year round waves for surfing. Many Yoga groups are starting to looking into Balian Beach as an alternative training spot other than Ubud. All rooms have been reconstructed from indigenous houses imported from Java, dating back to the 1930's. Rooms include twin share Surfer Suites and large houses that can sleep up to 8 people. One of the best place in Balian Beach for Surfing and Yoga. Experience a world of limitless adventure and sun-filled days in Balian … where you can live out your dream of being a surfer or enjoy a family holiday with few rounds of ice cold Bintang beers. Sample the freshest Indonesian and Western cuisine. 45 min from the Tabanan Mountain area for a coffee plantation hike and fresh brewed Balinese Coffee. Or slip into a waking dream with clear sky, millions of stars blinking at night and accompanied by tropical sea breeze. Some say Pondok Pitaya is a hotel, but some say its home Inclusions Breakfast Shared Facilities Swimming Pool, Restaurant Area, Bar, WIFI 24/7 Additional services These services can be arranged for a small additional charge. Scooter hire, Car hire – Rates available at Reception Desk, Car with driver – Rates available at Reception Desk Baby Sitter Service – IDR 150.000/ 3 hours. Staff onsite 7.30 am till late Surfer Suites Surf House A The Surf House is the perfect set up for a group of surfers travelling together. The surf house A is room complete with 1 bathroom & 1 toilet on the 1st floor. 2 single beds and 2 double beds also with 1 toilet on the 2nd floor. And the 3rd floor is a ground floor lounge & loft upstairs with daybed to check the waves. Maximum guests – 6 adults Facilities 2 single and 2 double beds complete with mosquito net, safety box, pedestal fan, toilet, bathroom complete with hot and cold shower, bath towel, electric kettle, cup, glass, coffee & tea Surf House B Simple and nice room. The Surf House B is part of Surf house A, which is located on the first floor that has been separated by the wall / bulkhead. The rooms are very comfortable for a single person or a couple. You can sit and relax in front of the room while enjoying the fresh air. Maximum guest : 2 adults. Facilities 1 double bed complete with mosquito net, safety box, fan, electric kettle, cup, glass, coffee & tea, bathroom complete with toilet, hot and cold shower, bath towel. Joglo Located in front of the surf with an awesome view from the covered balcony at the front. Joglo  has 2 private King rooms with double bed, and 3 additional king beds in the lounge. Suitable for a family of up to 7 people (2 couples and 3 singles) Maximum guests – 7 adults Facilities2 double beds in private rooms, 3 single beds in lounge, mosquito net, bathroom complete with hot and cold shower, bath towel, In – room safe, electric kettle, cups, glass, plate, fork, spoon, coffee and tea, Non-smoking room Bading Kayu Located in front of the surf with a view towards Balian River mouth. Bading Kayu is a large open plan room with 2 doubles beds and 1 single bed. All guests share one hot water bathroom and there is a second toilet for convenience. A basic kitchenette complete with gas cook top and fridge, makes it a good choice for a long stay or family. Maximum guests – 5 adults Facilities2 x King size bed, 1 x single bed, hot & cold bathroom with shower, bath towels, pool towels, In-room Safe, Kitchen – fridge, electric kettle, cups, glass, plate, fork, spoon, coffee and tea. Non-smoking rooms Happy House Located on the river end of the resort Happy House makes you happy as you sit back on your covered balcony sipping a bintang overlooking the waves. A larger version of the Joglo it has 2 private King rooms, 2 bathrooms and 3 additional single bamboo bed. The lounge space is very large and has a central kitchen/bar with basic cooking facilities, fridge, electric kettle, cups, glass, plate, fork, spoon, coffee and tea. Maximum guests – 7 adults Facilities 2 x King size bed private bedrooms, 3 single bed in lounge, mosquito nets, 2 hot & cold bathrooms, shower, bath towels, pool towels, In-room Safe, Non-smoking rooms River House The River House is the twin brother of the Surfer House. Located on the far end of the premises, quiet and a premium view to the break. It includes 4 single beds, an outdoor shower looking up into the stars, a bathtub, safe deposit box and a private terrace for four. Facilities 4 king single size beds, hot & cold bathroom, shower, bath, bath towels, pool towels, In-room Safe, pedestal fan, electric kettle, cups, glass, plate, fork, spoon, coffee and tea, Non-smoking rooms
Balian
Standard Double Room – $50  Standard Fan Room – $35  Superior Ground floor Triple rooms $70  superior Ocean View Triple rooms $70  All include breakfast and Wifi 
Gubug Balian Beach Bungalow apartment is located within a 30 second stroll from a sandy beach. Such facilities as free parking and a restaurant are available on-site.
Many Tabanan sights, including Park 23 Entertainment Centre, Hu'u Restaurant & Bar and Made's Warung Seminyak are approximately 60 minutes drive away.
Fast access to Ngurah Rai International airport within 40 km is provided.
Rooms
The apartment offers 9 rooms featuring a laptop-compatible safe, large windows, climate control, free wireless internet and a trouser press. The property features an en suite bathroom with free toiletries and bath sheets.
Internet
Wireless internet is available in public areas for free.
Guest Parking
Free public parking is possible on site.
Facilities
GENERAL
Free Wi-Fi, Free parking, No pets allowed, Coffee shop, Flat-screen TV, Ironing facilities, Towels, There are beach facilities including beach chairs and towels provided at the Infinity pool.
SERVICES
Paid airport shuttle, 24-hour room service, Housekeeping, Bicycle rental, Laundry
DINING FACILITIES
Breakfast, Restaurant, Poolside snack bar
LEISURE FACILITIES
Infinity pool, Beach access, Beach chairs, Beach umbrellas, Garden area, Reflex massage
ROOM VIEW
CHILDREN AND EXTRA BEDS
All children under the age of 10 may stay free of charge when using existing bedding.
Older children/adults may stay at the price of IDR 75000  ($7.50) per person per night in an extra bed.
Maximum capacity of extra beds in a room is 1.
CANCELLATION*
If cancelled or modified up to 2 days before date of arrival, no penalty will be charged.
In case of late cancellation or no-show, the full amount of your stay will be charged. This is general cancellation policy. Please note, cancellation policies may differ, so make sure you check them before reservation.
Balian
$160 per night for up to 4 people and $20 per head for extra people. Sleeps 6.
Includes daily breakfast and house-keeping.
The villa has very spacious rooms that you will find very comfortable. The main bedroom has air-conditioning and awesome ocean views. There is also a massage table for your in-house massage. The second bedroom is also air-conditioned and has two king single beds. These two rooms have an adjoining bathroom. The loft has two king single beds with overhead fans and also enjoys views of the sparkling ocean. On the ground floor there is an indoor/outdoor bathroom which is common in most Balinese lodgings. The living area has a large flat screen TV with cable channels and a DVD player. There is a mini sound system for Bluetooth connection to your phone so you can relax and listen to your favourite music. If you want to prepare your own meals the kitchen is well appointed with a fridge, gas cook top, microwave, kettle and toaster. Outside you can relax by the pool on the sun beds or chill out in the Bale Bale with your favourite book. There is also an outdoor shower to use when you get back from the beach or to rinse off after swimming.
Guest access –  The whole villa is yours to enjoy. It is totally private and you will feel safe knowing that the neighbourhood has 24 hour security.
Other things to note – The village of Balian has many restaurants but there are no nightclubs or loud bars. You will need transport to get to Balian which can be organised if you don't have a car or bike. Restaurants open between approx. 8am – 9pm.
Bonian Surf Villa has a "NO PARTY" policy. It is located in a quiet estate with neighbouring villas so we ask that you limit your noise after dark in consideration of others.
There are a limited number of ATM's in the local area so I recommend bringing enough local currency with you for your time in Balian. Some restaurants take credit card but you will usually be charged a fee (2-3%) for this service.
Amenities
Kitchen, Wireless Internet, Iron, Free parking on premises, Breakfast, Cable TV, Towels, bed sheets, soap, and toilet paper, Hot water, Pack 'n Play/travel crib, Free parking on premises, Pool, Private entrance, Separate street or building entrance.
Balangan Beach
Bali Holiday Villa  – 2 bed/ 2 bathrooms OPEN AIR Sleeps up to 5 PPL  – $150 For bookings contact Niki Close to surfing, golf, beach clubs – Uluwatu/Ungasan, Australian Owned & Managed, Newly refurbished stylish open air villa on 300sqm plot Serene & tranquil location away from the main road, Close to all surfing beaches on the Bukitin Ungasan minutes from Balangan, Uluwatu, Dreamland, Bingin, Padang Padang, Impossibles, Finns Beach Club, El Kabron, Karma Beach Club, The New Kuta Golf Corse, GWK Cultural Park, The New Kuta green Water Park, Ayana Spa, Rockbar are all close by. Restaurants, Bars, Gourmet Deli, Warungs, Five Star Dining – Dine In, Hoe Delivery & Takeaway Supermarkets, Liquor Store, Shops, ATM, Money Changer, Laundry, Dry Cleaner, Day Spa, Pharmacy, Petrol Station, Mobile Phone Top Up are all within 1 minute away. Large open air living room extended by a fully equipped gourmet kitchen with all new appliances & amenities, Wall mounted flat-screen TV with cable for the kitchen, lounge & poolside viewing. 2 large air conditioned bedrooms equipped with high quality bedding – one King size & 2 single canopy beds- extra pullout beds on request, cot & highchair on request. 2 outdoor bathrooms complete with decorative open-air gardens, natural stone & outdoor rain showers. 6 x 3m natural stone infinity swimming pool in full sun complete with wooden sun decks with various lounging areas in the shade & sun & a yoga deck. Tropical gardens, outdoor lighting & water features. Fully detached, maid service, pool maintenance,  private entrance , gardener & on-site security. LCD flat-screen TV in the master bedroom, DVD, media player with all new movies, Bose System, In room safe, BBQ Grill, Free WiFi, Free mobile phone for guest use, free toiletries, Free welcome fridge & free mineral water. On request – airport pickup 7 drop off, English speaking driver with child seat, car & scooter hire, personal chef, personal shopper, in villa spa treatments, laundry, baby sitting & nanny service. KEEP YOU EYE OUT ON Bali Buddy FB page for discounted prices.
When you contact "Way To Bali" please mention Bali Buddy to receive these prices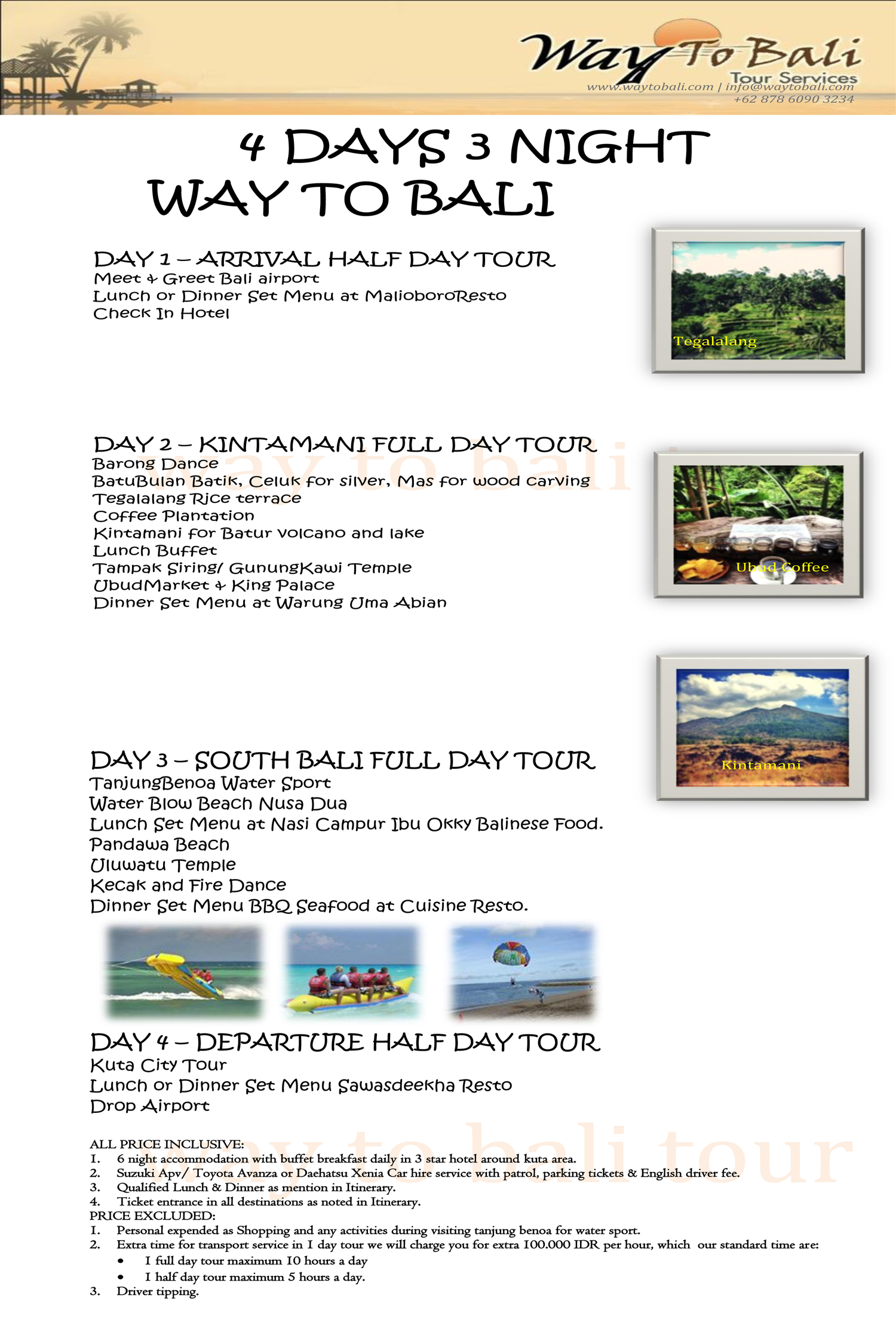 When you contact "Way To Bali" please mention Bali Buddy to receive these prices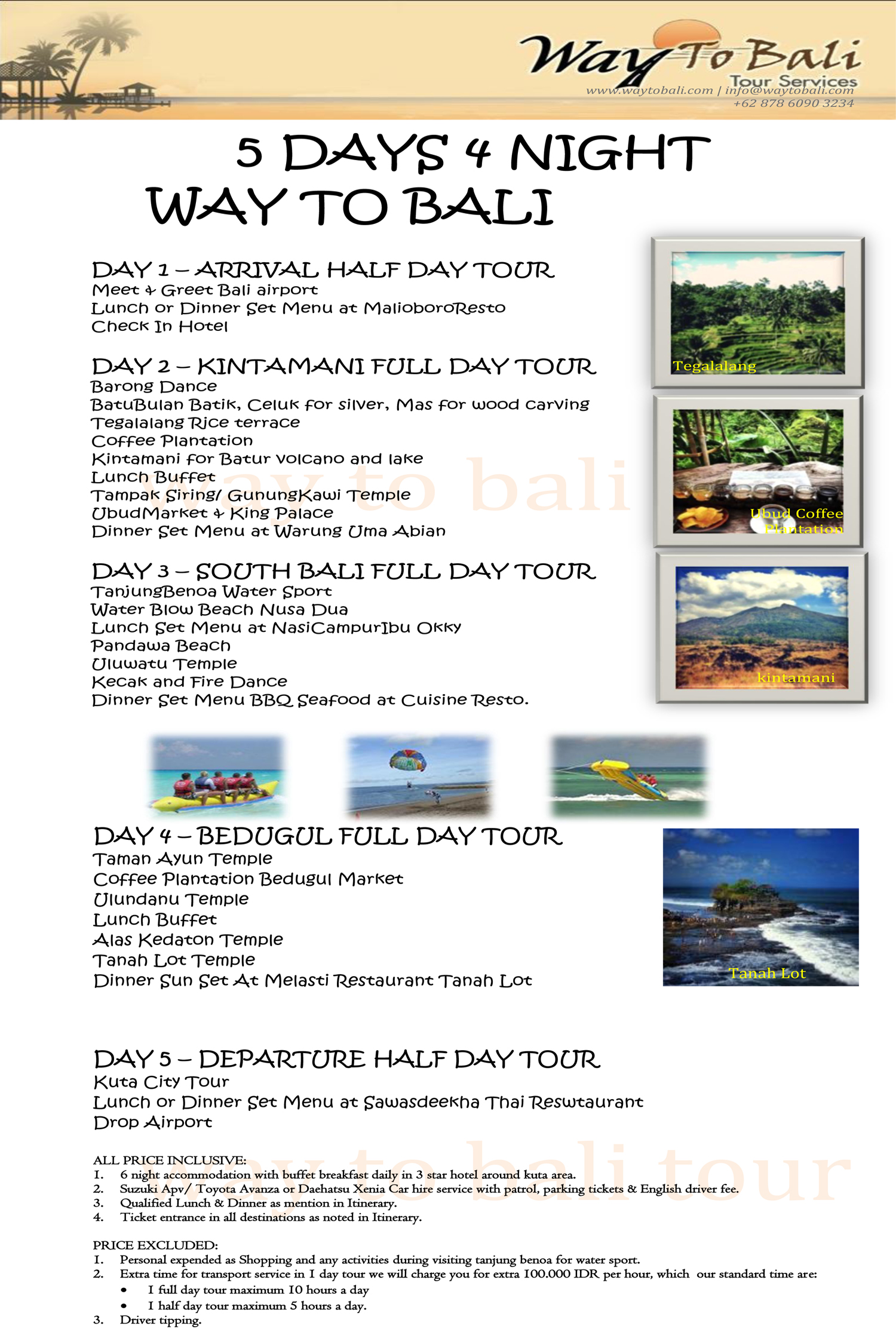 When you contact "Way To Bali" please mention Bali Buddy to receive these prices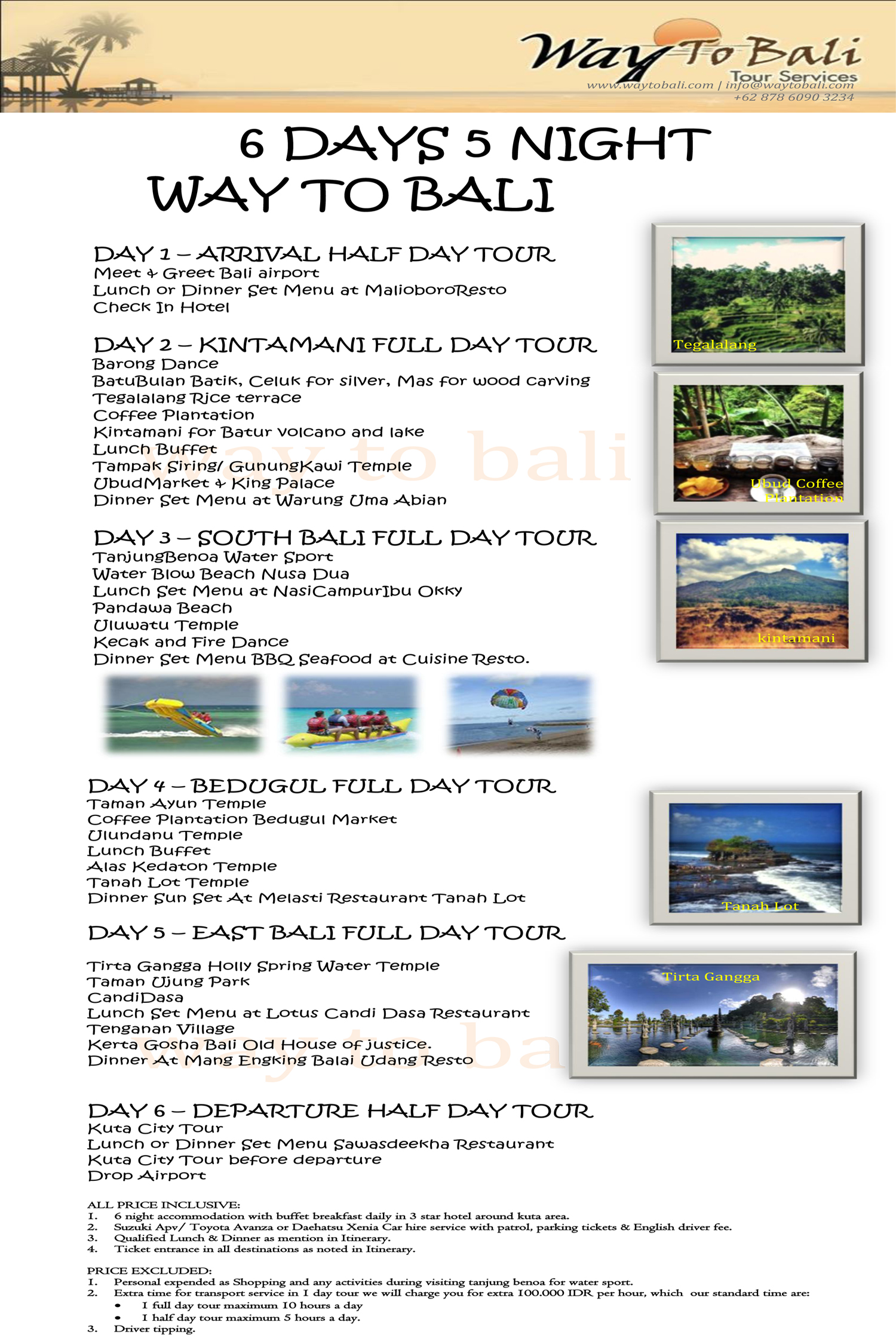 When you contact "Way To Bali" please mention Bali Buddy to receive these prices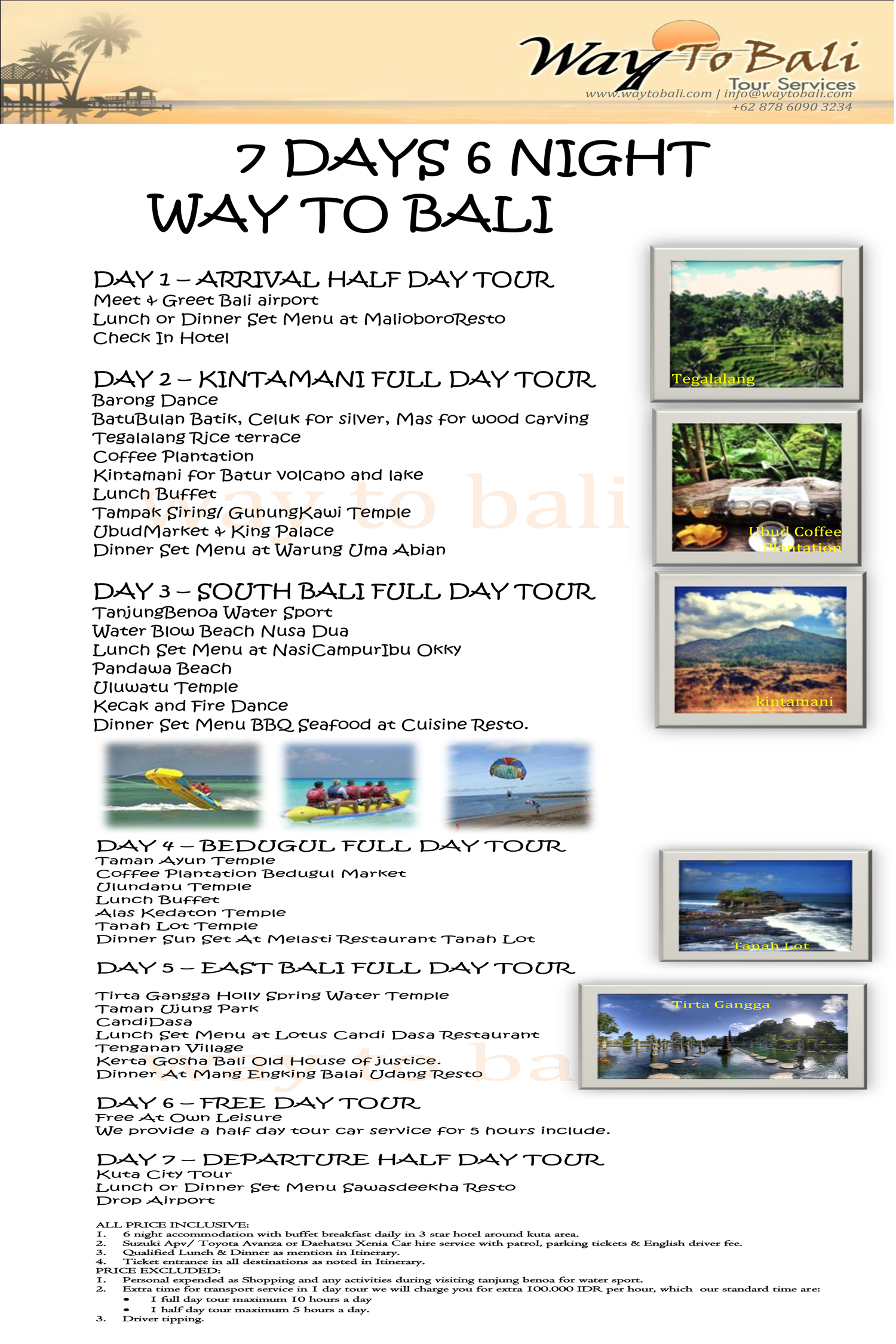 Prices
4 days / 3 nights $300  double
5 days / 4 nights $400 double
6 days / 5 nights $500 double
7 days / 6 nights $600 double
Reviews
Just want to catch up & say thanks to you for all your help & blogs on Bali Buddy, very appreciated.
Had a couple of tours with Wayan Tattoo & Wayan (from Ubud) which were all excellent. The knowledge, personalities & safety of these guys were unmeasurable! Please give them my best from Nathan & myself. We really appreciated their friendship.
I just loved Bali! For me it was not as full on as in 1980, with the madness/frenzy of hassling intensity not there anymore. I really loved it. Things sure are a lot more modern but for good reasons. Most Balinese have moved into the modern world, which I think is awesome & as usual they are still one of the most happy & content people on this earth.
Bet you are counting down the days till you move over there. All the  best for your year of bliss!! Will be looking at BB site to c how things r going.
Commented on FB about Jules & I having a beer on Sat arvo, was so good to catch up with her (even though we live in same town)