Posted in
Food
on May 12th, 2011 by admin –
Comments Off

on Food Glorious Food
The food in Bali is of incredible standard.  Your Bali holiday would not be complete without trying Mie Goreng, Nasi Goreng, Satay Chicken, Mahi Mahi Fish, Gado Gado Suckling Pig, or Chicken Gordon Blue. .
Legian
Sinar Bali Hotel
A very hidden secret place, and great food.  Opposite the 1 Corner Bar and directly behind the new very large Aramis Hotel is  Sinar Bali..  Ketut and Madi are excellent chefs (Ketut having worked on the QE2) The Menu is huge and the prices are very very cheap.  10 satay sticks and rice for Fettucini Cabanara. Great Club Sandwiches and Tom and Jerry  (Rissoles and Chips)  A must try, not many people go here because it's tucked away.  Do mention Niki and The Bali Buddy if you visit.  You wont be disappointed.. Also ladies the cheapest Red and White Wine in Bali.
Warung Kantini
On my top five list in Legian.  No bells and whistles here but the most amazing served steaming hot  well priced food.  Down Three Brothers Lane off Padma Utara.  The best spring rolls (4) and the best Indo Special Chicken Fried Rice.  It is that good you often see people waiting on the street to get in.. Do wait the turn over is really quick and it is defiantly worth it.  Mango Juice is Devinne I always get a takeaway for Brekky..  The menu is endless.
Bogasari Warung 
Located in Sinar Bali Hotel 
Padma Utara 
Nestled behind Swiss Bell Hotel – and opposite The Corner Bar 
Even if you're not staying at Sinar Bali Hotel don't miss this amazing food .. Fell free to pop into the restaurant and mention Bali Buddy . – Cookie the Chef worked on the QE2 for years
The food is amazing , great prices, great staff and cold cold Bintang .. 
Enjoy 
Legends Bar
You must see the Yellow Band here and take the kids to see the Elvis / Michael Jackson Show. The Yellow Band play some fantastic tunes and always make you feel welcome.  Some people love Legends that much they go back night after night.  The staff are so friendly and really make you feel apart of Legends.
Je Je: Just above the Spider Bar in Padma Ultara this place is great for large groups and the food and service is excellent. Check Gede is the Chef
Sangria Ribs:  OMG these are the very very best… A huge rack of the tastiest ribs, freshest vegies and sauteed potatoes.. Just the best…Other choices available & all food is great.
La Monde
 Best Pina Coladas in Bali. The satay chicken here is divine,  its served on your own mini BBQ.  Yummy.  Pizzas are great too.
Switch: Up past Kumala Pantai on your way to Double 6 on the left at Legian. Switch is so very very Yummy.  You can eat in Takeaway or get a home delivery.  The Sandwich Menu is fantastic or you can make your own combination.
Sammy's Bar and Restaurant : The staff here are really friendly and kind they go out of there way to make you feel happy and comfortable.  Good food great spot to stop for  a drink and people watch for a while… Jln Padma Utara No 5 Legian.  Sammy is a lovely man and will make you feel right at home in his Warung.
Kumala Pantai
Great Italian.  Great Pizzas. Also have a show here on some nights. Beach front Legian
Zanzibar: The Atlantic salmon here is very good. You can also purchase a bin tang keg for your table.  Great views right on Legian Beach.
Bella Vista Coffee and Juice Bar: On Padma Utara just down on your right from Three Brothers  Hotel and under La Monde… The food is fabulous.. Expect to wait as the food is fresh fresh fresh… I swear they pick it from the garden out the back.. The atmosphere is fab and the toilets are a real treat… I swear you wont just go once… You will return and return…  Right next door is the Bella Vista Supermarket (its a little up market) and dearer than the Circle K's but has some great little  gift wears.  I buy beautiful soaps here in a story book.. they are very special…
Olops: Opposite Malasti Hotel above Mummas Supermarket.  Great Satay presentation is fantastic , great staff…
Y Bar: A Very popular spot on JI Padma Utara right next door to Garden View Cottages.  Live sports on the big screen with a tab the races, keno and a Bookie.. Pool tables and free WIFI   y_bar@ymail.com 0361753265…   The punter and sports enthusiast will love the Y Bar.
Pozers: Great Bar and Food a good spot to people watch and waste some time .
Poco Loco: Great Mexican and some of the funniest staff in Bali.  Great for large groups. Meals are huge.   Ribs are great.
Bamboo Warung: Rum Jungle Road Legian. Bamboo Warung it's one of the cheapest feeds in Legian.   Watch the stairs.  Again in my top five in Legian.  Deep fried calamari – yummy.
 LEGEND
Billy's: I love going  to Billy's the chairs are comfy and the staff ( all male) are very comical.  The food is great and the live band nightly play some great music.  Great for large groups & celebrations.
Ocean Beach: On the beach at Legian.  Great View .  Great TV Screen . Often screen sports.
Blue Ocean: One of the very first Restaurants on the beach front many years ago and has just improved with age.  You can choose to sit in big blue comfy lounges or chairs and the speciality is seafood.
SAWASSDEEKHA
Best Thai food in Bali:
Rum Jungle Road Legian
The Coconut Thai Chicken Curry is the best. Pineapple Rice, Pad Thai & so much more. mention Bali Buddy & receive 10% discount. Wayan & all the staff are lovely.
Monzarella on the Beach: Does get very busy so its wise to book a day in advance.  Saturday night is Beatles night and a great laugh.  The Atlantic Salmon is to die for…  Also famous for its Cream Caramel and of course has the best list of bottled wines…
Tommy's Cafe
Just like home up past BMC bank Rum Jungle Road Legian every thing Australian.  Milo, Weetbix, chip buddies, salad rolls, steak sandwiches, bruschetta, and everyone's fav Iced Coffees. Just as good as Mum makes it,  (shh Better) caramel slices.  Always busy but the tables clear quick. Takeaway also available.  They have the best greeting cards here for only $1.50 that are made by Bali St Kids.
Jimbaran Bay   (Seaside Cafe)
It is brilliant and I recommend everyone who loves seafood and want the beach sunset experience to go… Non seafood lovers  can order of a normal menu.
All this from$65 per double. Beach front table includes crab and corn soup, calamari (fried and grilled) garlic prawns, lobster, mussels, whole snappers, rice, vegetable and desert.  Also include 1 bintang each.
Great value for money.  The musicians will pop around and play some great sounds.  It truly is a magical night.  Contact Wayan Tattoo on 08123917160 or  on face book to make your booking.  You will not be disappointed….$65 a double. You can BYO wine & spirits.
Bali Beach Shack: Legian
Fabulous Drag Show that will make you laugh & want to go back…Don't miss the Beach Shack
Bella Vista Cafe and Bakery: Opposite The Y Bar Padma Ultara Legian
Mugshot: Legian. Best coffee in Bali. Also if you wish to help the children of Bali with eczema – please bring tubs of vaseline & leave them at Mugshot
Jungle Juice
Don't miss Jungle Juice in Rum Jungle Rd Legian – On your left hand side just before Legian Rd
Please mention The Bali Buddy – $5 Cocktails
Combi Juice Bar
On Padma Beach Legian
Very funky and a fabulous view and great juices & cocktails at sunset.
Miss Warung Gueek in south Tabanam about a 45 minute drive from Legian and definitely worth the visit.
You won't get closer to sitting in the rice fields than here.
Stop here if going to Canggu or Tanalot just fabulous
Alley Way Shack
Don't miss this amazing food and fabulous juices off Padma Ultara Legian – See map below 
Paideia
Same location as Alley Way Shack
Amed
Galanga Warung in Amed is trip advisors number 5 in Bali … The food is amazing just amazing.  So if you're in Amed don't miss Galanga
Seminyak
Potato Head:  Great for Sunset or a lunch by the pool with a magic beach view.. A little expensive but a one off  good experience.
The W : Great for Sunset the cheese platters are beautiful but the  piece of resistonce is Sunday Brunch from 11am till 4pm includes all you can eat, drink, (beer, wine, cocktails, spirits, champagne) Must be booked well in advance.
KuDe Ta : The most amazing and trendy bar on the beach. Very expensive but worth the look and one drink.  No Bin tang singlets here…
La Lougiolas: A great breakfast in Bali and a great treat.  Very Up market and more  expensive. They also provide fixed price transport out the front.  The eggs Benedict are divine & the potato cakes are out of this world.
Ultimo: Very Up Market Italian.
Biku: High Tea so yummy & great atmosphere. Best to book online.
This is a wonderful experience and I will definitely do the high tea again.  Biku is a unique restaurant in Seminyak.  The High tea was amazing. We added a couple of glasses of champagne at $6.50 a glass and had a  15 min reading. A great afternoon I would highly recommend especially for the ladies.  If you are wanting a reading book well in advance.
To Contact Jero Melati Christene: Sayogahandmade@yahoo.com081916273034 or Biku Restaurant 03618570888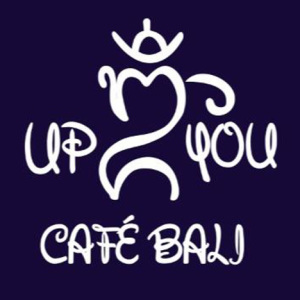 Up to You is a fantastic  new Cafe on Double 6…SOON TO MOVE TBA. Great food great staff and they also run a fabulous Cooking School … For only $25 a person includes 3 choices of meals to cook …apron or stubby cooler .. Don't miss this fantastic opportunity to not only learn to cook Balinese authentic food  but to also eat it.. I can guarantee you will be back for Breakfast and Lunch …. don't Miss Up To You ….
Pearl:
Pearl in Double Six Seminyak .. If it's fine French Cuisine your after then don't miss Pearl .. Rated 2014 best Resturant in Bali and 2015 second restuarant on trip advisor .. 
Bookings essential .. Not Bali prices but worth the taste and experience … 
Kuta
Warung 96: All round great food and atmosphere. Great wood fired Pizza.
Sky Garden: Smorgas board dinner $5.  The food was amazing for $5 per person and the atmosphere was there to match it.  I don't usually like smorgas board but Sky Garden is good value.
Kuta Food Court: (something for everyone great for kids)
Tubes: ( Great Atmosphere and Music)
Bread Talk:  In Discovery Mall. Very reasonable. You can feed the family lunch for about $5. Sweet, sweet, sweet
Canggu Beach:
A favourite spot for sunsets.
ECHO BEACH SEAFOOD
Dian Café: is very good & great value for money.
Ubud
Naughty Norris: Ribs  (great value great atmosphere, very indo… Naughty Norris has also opened in Canggu
Pundi Pundi: is set right in the heart of Ubud and right on the rice paddies it is amazing food with an amazing view and really cheap cheap prices..
Cafe des  Artis: (just down the gang (meaning lane way ) from Honey moon Cottages One the best Gado Gado.
Oops: Right opposite the Ubud Markets.. Great for your lunch , morning tea or a toilet stop whilst enjoying the markets.. Also a great place to use as your meeting spot when your lost in the markets meeting place.  Toilets are excellent.. Just buy a drink..
Cinta:  Means Love  On Monkey forest Rd about half way down.. The food here is very impressive.  Presentation A1 and the ribs are a specialty
Kiendi Warung: At the end of Honeymoon cottages gang, very Indo style and Indo food very cheap and authentic.. Well worth a visit.
Rai Pasti's: Great View excellent service and great Rice Paddie Views on Monkey Forest Road. Cheap
Warung Enak: Great Food Great Service.
Greenhouse: Opposite Cinta on Monkey forest Road.  A great place to people watch and the food is great.
Gana: Gana Restaurant 800 metres from Monkey Forest Road…….Please Mention Bali Buddy
Kintamani
Batur Sari Buffet:  Buffet Restaurant but this place is something else.. Perched right at the top of Kintaminithe view is incredible and the food is very scrumptious.. The turn over with buses and tourists  result in the food being extremely fresh with many different choices..
 Warung: DEWA MALEN great place to stop for lunch after visiting Tirta Temple Holy Springs..fabulous food , fabulous outlook
Warung Tepi Sari on the outskirts of Ubud nestled right in the rice fields..
Fabulous Warung with no crowds and great food. Perfect if your doing a day trip to Ubud.
Uluwatu
Be Ja na – Wow Wow Wow
If your visiting  Uluwatu or Padang Padang  or the Cakek Dancing don't miss Be Je na it's beautiful. Mention Bali Buddy you will love it.
Nusa Dua
Sofatel Brunch
Saturday and Sundays
Wow wow wow
By the time you pay tax it's $84 a head includes free flow Beer, white and red wine, champagne and two choices of cocktails. ( other packages also available)
11 am to 3 pm … The staff are amazing ..tip them if you are happy Google Sofatel and make a booking Yummo