Posted in
Night Clubbing
on May 12th, 2011 by admin –
Comments Off

on Night Clubbing in Bali (by Sigrid and Clancy) My Nieces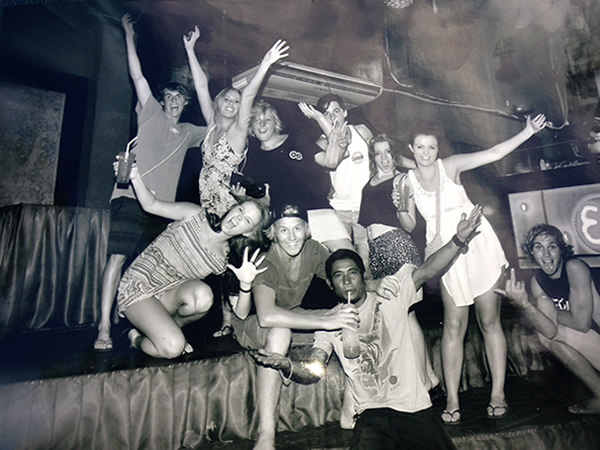 Sigrid and Clancy are one of my best friends daughters.  I have  known them since birth and over the years ours families have experienced some amazing holidays, including Bali.  The girls are 25 and 27, Sigrid is a Teacher  whilst Clancy a nurse.  They have been to Bali 15 times.  As they are not game to take their Aunt Niki night clubbing.  I have asked them to help me write this section of the Bali Buddy.  Enjoy the Party…
Some of the Girls Favourite Night Clubs in Bali
The Engine Room : R & B Music, Happy Hour from Sunset – Midnight, Jungle Juice (about a litre) Jam Jars ( vase like cocktail) same price.  Get here around 10 ish.
The Bounty: 3 levels of Karaoke , house music, Pop Music (cage and pole dancing).
Paddys: Similar to the Bounty but only 1 level, however stays open really late.
66 Club: Situated in up market Seminyak on Jalan 66.  Very classy starts around 2am.
Reggae Bar: Live reggae Music.
Apache: Live Band, starts early
Expresso: Legian St Kuta . Across the road from the bounty.  Good live music.
Sky Garden: Situated near the Memorial Site.   Good Live Music. House Music.  Good Happy Hour on special Cocktails. Fabulous Buffet for only $10
The Beach Shack: Transvestite Show.  Owned by an Australian. 2 shows nightly 9pm and 10.30pm.  No entry fee you only have to purchase a drink.
A great night out lots of fun & laughter at the Beach Shack in Garlic Lane…….. Show starts at 9pm………Fabulous BBQ Buffet on Sundays
Legends Bar:I love it.  Its a great place to take the kids for a night of dancing.  Don't miss the Elvis , Michael Jackson Show.  Enjoy a Fluffy Ducks Arse  Cocktail..
Tubes: In Poppies 2.  Pool Comps. PA System and great Music.
Ally Cats: Off a lane way in Poppies 2 is a good starting place.  Fabulous food.
Tips and Dangers: Plan to eat before you go out.  There are no hot dog stands in Bali.   Be aware of your hand bag and don't leave it in the middle of the dance floor or on the table.  It wont stay there.  Purchase a small bag from any where that drapes across your chest..Too easy.  Drugs are sold out the front of most clubs ..DO NOT BUY THEM…  Keep your drink on you at all times, be aware of drink spiking.  If you don't want to spend your whole holiday on crutches dont wear heels.  But do wear thongs to protect your feet.  Don't dance bare foot.  Have a buddy and stick with them…Kuta and Lombok Cowboys…Beware they are really lovely boys who are friendly, funny, and of course love a good time.  They hang out  at night clubs and bars every ngiht, they are buffed with rippling muscles  and they love to party with the girls. Don't be sucked in they have a different girl every night.  Lip Herpes is common in the night club circuit of Bali. Pink I is also common from the foam pit at Bunty.
As always with the information in the Bali Buddy it is not gospel but a recommendation.  Thanks Sigrid and Clancy for your help and the wonderful times we have spent together in Bali.  Thanks for the laughs we shared whilst writing these pages.