John's Surfing Tips
The Surf in Bali is crowded, people are travelling now from all parts of the world to experience surfing in Bali. Don't t expect your own break,  but if you take your time and explore a bit you can wing some classic waves. I surf at Kuta Reef heaps, To get a boat to Kuta Reef drive thru the Kuta Markets and turn left, you can store all your gear here, park your bike or car.  The boats with the red flags are 50,000 $5.   Also a spot they call Middles is  a bit further out but bigger with less people. I love Uluwatu, and Legian Beach just out the front of Puri Raja Resort has some great banks. I also surf regular breaks at Canngu, Keramas, Bingin and Balangan. You can sometimes but not often get some good rights at Dreamland. I have enjoyed some great surf at Medowie, Balian and Kuta Lombok & Sumbawa (Lakey Peak)
Hire Surf Boards & Surf Lessons
You will pay a fortune with the big companies.  Head to Legian ( Between Puri Raja and Niksoma Hotels) Right our the front of (Monzorella by the Sea Restaurant) to the Twins Bar.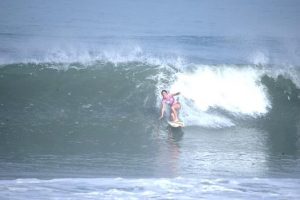 MOLLY at Cangu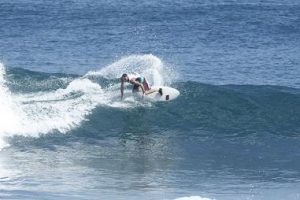 Tip: Hire a Motorbike with a rack so you can duck off and go surfing quickly even if it's just up the beach a bit further. Make sure your insurance covers moto riding & wear a helmet. If you take your time and don't take risks you will be fine.  Purchase Indo Surf and Lingo www.indosurf.com .au this surf book has all the breaks, waves and Info you will need for a perfect Surfing Holiday in Bali.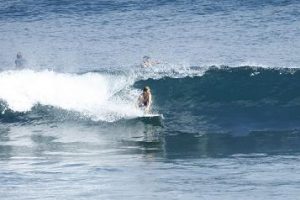 Surfing Lombok
Lombok offers a great variety of waves from Desert Point ( renowned as one of the best waves in the world) to Gurapuk which suits the beginner to intermediate surfer (except on big days).  Other breaks are Mawi, Mauin, Air Galung, Segar Tanjung Arn and Ekas's.  To me Lombok is like Bali was 25 years ago, beautiful people, food and classic waves.  Bali and Indo surf spots are more popular than ever and the sight of crowds out in the line up can be discouraging.  My advice is go for it any way.  Alot of people just go out to say they have surfed Ulu's or the reef and are like buoys, floating there.  I find if you don't snake people out but go for it you will get your fair share of waves and give the locals their share  and you will find that they share too….
Bagus Berselancar ( good surfing)  John
Serangan
I'm not supposed to write about Serangan because John thinks its his find and his little peice of paradise.. I too love it… We spend a lot of time at Serangan in Nov /Dec due to the wet season and the swells.. Just near Sanur it is the Bali of old.. Old huts along the beach with hawkers annoying you….. but just  pure  magic.. White sand clear blue water and a abundance of Indo food at local prices…    We always spend Xmas Day here and have an  absolute ball… The kids surfed the reef in there santa hats whilst I enjoyed the view, chatting to the local people and eating my fav Mie Gorang for Xmas Brekky…
Nusa Lembongan
WHEN TO SURF
Before you go in the water always check the tide. Some spots have local variations as well so ask around. The best time to surf is between the two hours before and the after the full tide when the risk from reef injury is lowest. The tide coefficients have to be more than 1.0 for beginners or 0.7 for more experienced or you will risk getting cuts or breaking your surf fins. Tide charts are available at monkey Surfing or check our INFO SECTION for the Benoa tides and add about 30 minutes.
WHERE TO SURF
PLAYGROUNDS ( left or right )
This is only a 5 minute paddle from Coconut Bay. It is the easiest take off but often crowded. Be careful if it's your first time surfing a reef break, take care with medium to big swell and strong currents.
LACERATIONS ( left and right hander )
Just in front of Monkey Surfing office, this wave is perfect for every level of surfing offering small to medium swell. When the swells get bigger (2m+) only the right hander is surfable and offers a very fast barrel to the most experienced surfers. You can get to it by fifteen minutes paddling from shore or take a boat and save your energy for the waves.
SHIPWRECKS (right hander)
Start paddling from Indiana Kenanga towards the black flag which indicates the enterance to the lagoon( around 10 ninutes). This is world class but a bit crowded. When the wind blows offshore, this wave offers a nice barrel. It is best for experienced surfers only. Lookout for the seaweed farmers sticks!
RAZOR (left hander)
Next to Shipwrecks, this long lefthander is easy to spot from the shore as it is always breaking and is bigger than other spots. Choose your wave carefully as some of the sets close out. This is the best for experienced surfers as there are many seaweed sticks and if you are still catching the whitewash, you may end up in the seaweed sticks.
CENINGAN (left hander)
Take a motorbike over the suspension bridge, turn right and ride ten minutes. The break is 2 minutes offshore and usualy with very few people. It is very good when the surf is too small for Lembongan. But it is best for experienced surfers only as there are many seaweed sticks.
SUMBAWA
Over 100kms of surf potential, Yoyo's, Sar Reef, Lakey Peak,  Nunga's, periscope & Cobblestones