Tarci Bungalows – Absolute Beachfront – Jungutbatu Beach 
Out the front of the famous surf break Shipwrecks – Nusa Lembongan
30% no refundable deposit upon booking to secure your rooms
Double Room $50 per night per double
Triple room $60 per night per 3 people
Beachfront Rooms – $65 per night per double
Family Room – 750.000 IDR approx – $75 for a family of 4
All rooms include breakfast
All rooms include WiFi 
$10 per night per extra mattress includes breakfast
There are 11 different rooms at Tarci Bungalows.  All rooms are next to the Jungutbatu Beach of Nusa Lembongan, and our deluxe rooms come with perfect ocean and pool view. All rooms come with AC and private bathrooms with shower or a bathtub, the Family room sleeps 4. We have free WIFI connection and our own restaurant is ready to serve you from early breakfast to late dinner.
Family room
$50 per night sleeps 4 includes breakfast for 2 Adults – children under 8 years eat for free over 8 years $10 per head
Tarci Bungalows is a locally owned, family business that started over 30 years ago at the Jungutbatu beachfront in Nusa Lembongan. Jungutbatu Beach is in the northwest of Nusa Lembongan, which is a well known paradise island southeast of the main island of Bali. Tarci Bungalows is located just in front of the famous surf spots here at Lembongan. From the restaurant, pool or our deluxe rooms, you will have perfect view of Shipwrecks, Razors, Lacerations and even down to Playgrounds. If you are looking for surfing, diving, snorkeling and fishing or just warm weather with beautiful nature and beaches, Nusa Lembongan is the paradise island for you. The water is some of the clearest you will find anywhere, as colorful coral reefs surround the island on all sides.
We have rental scooters at the hotel, and many water taxis are ready to take you snorkeling, diving, fishing and on island tours anywhere, anytime. The people of Lembongan are always greeting visitors with a warm smile, and you will find it relaxing and welcoming everywhere you go.
Yoga Class – Yoga in Nusa Lembongan – don't miss meeting Agus and his staff at Tarci Bungalows on Jungutbatu Beach for fabulous Yoga on the roof top – contact Ni Putu for prices and times via WA +6282146278899. please mention Bali Buddy when you book.
Snorkeling & Mangrove Tour – Experience a snorkeling and mangrove tour, and enjoy the exotic view of this island.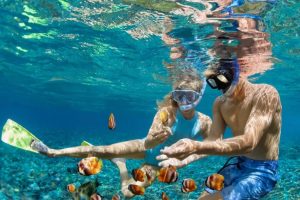 Agus Shipwreck Bar & Restaurant, our own restaurant, is located right at the beach of Jungutbatu here in Lembongan. We serve daily breakfast, lunch and dinner with the spectacular views over the ever changing beach of Lembongan. International standard, open kitchen, with 3 different seating environments available, all with sea views and sunset setting. Every night we serve BBQ in the sunset and we arrange a popular buffet on request. Our daily menu is a well composed mix of salad, soups, seafood, meat, burgers, kebab, pasta, pizza and traditional Indonesian food. The restaurant is accompanied by a full service bar with a large selection of wine, spirits, liqueurs & cocktails. We also make many popular non-alcoholic fruit drinks, smoothies, mocktails and milkshakes. With a mix of returning long term visitors you will find many interesting conversations at one of our different seating available at the sunset beach of Lembongan. All fresh food, No MSG, All prices include tax.